For some people winter and gardening are not two things that go together.  For sure, there are perhaps less gardening jobs to do in a domestic garden in the middle of a housing estate in East Kilbride in the middle of winter, and there may even be snow and frost covering the garden, but that doesn't mean you need to forget about all things related to gardening – I certainly don't.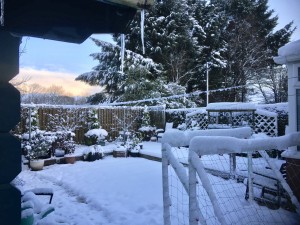 I like to use the time when the garden is covered in snow to think about making changes to the garden.  I think about how crowded a certain area of the garden might be getting, or perhaps how I could fit another plant in where there is a little bit of space.  I also think about what has worked well, and what has worked less well.  I don't think my garden has ever stood still, ever.  I'm always adding to it, and taking away, and moving, and trying out something new.  I find it relaxing and exciting at the same time.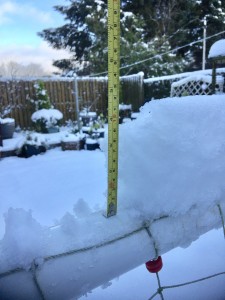 Another winter gardening job I like to do when snow is covering the garden is to look through my many gardening books and catalogues.  I like to read up a little more on the various plants, shrubs and trees I've encountered that year, and I also let my mind drift onto other plants that I'd like to learn more about.  What I am mindful of is we live in East Kilbride.  Our spring and summer season is often shorter, colder, wetter and windier than many places, especially compared to the south of the UK.  This means I often think about how well and for how long a plant will thrive here compared to the location of the plant in a glossy photo in a gardening magazine.  A tip I give to customers is to keep their eyes open to what they see growing locally.  If it's thriving locally, it's likely to thrive in their garden too.
Some people also think of a garden in winter as being a bit colourless.  If their expectation is of vibrant summer bedding plants then yes, a garden in winter in East Kilbride can be a bit colourless by that comparison.  However, a garden in winter certainly needn't be devoid of colour.  Instead of thinking about the lack of summer colour, instead think about the possibility of winter colour, such as the coral red bark on a certain variety of Acer.  The bark is more exposed when the plant loses its leaves in winter.  Or perhaps go for plants with winter berries and interesting foliage, like Skimmia, Yew or Holly.  Some varieties of Holly have variegated foliage of cream and green – and together with bright red berries can look lovely in any garden.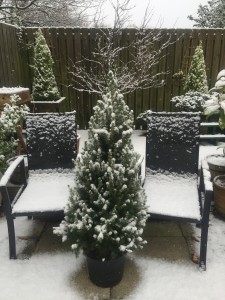 A plant that can also look really great in a garden in winter are the many varieties of conifer.  When covered in frost or snow they have the power to conjure up images of frozen forests or glens glistening in the winter light.  You just need to be careful about the variety you go for.  There is no point in falling in love with what appears to be a dwarf variety only to find it's grown 3 metres in 5 years, and in 10 years it's bigger than your house.  We have a variety of conifer in a pot that will grow to a maximum of 2 metres when fully grown.  We hang fairy lights on it at Christmas, and we sit it just outside our front door as a winter gardening welcome to our visiting family and friends.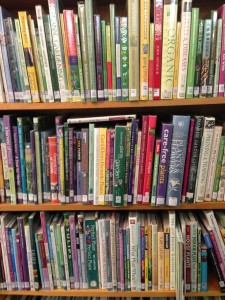 If you are ever unsure about what you could grow in your garden to give it a little bit of a boost in winter then you could perhaps visit your local library where there will be gardening books to suit all levels of experience and interest, from the beginner gardener to the more advanced gardener.  Alternatively you could seek the advice of a neighbour, friend or relative who enjoys gardening.  If all that fails, and you are still unsure, you could seek the advice of a gardener who runs a business local to you.  They will know the plants that thrive in gardens locally, and they will also know how to take care of them, for example when, how and what season they may need to be pruned or trimmed in, and perhaps more importantly when not to prune. 
Enjoy planning your winter garden.
Michael Thomson
Mr & Mrs Gardens Limited