The photographs of Hydrangeas in this blog were taken by me and are owned by Mr & Mrs Gardens Limited. They are not photographs from the book.
Hydrangeas – book review
I never used to like Hydrangeas. In order for you to understand why, I need to share a short story with you.
I must have been about 10 years old and right at the end of the 1970s my family moved to East Kilbride from Germany. The new town had what was then a state of the art indoor swimming pool. I recall swimming in this pool and bumping into someone. I lifted my head out of the water to be confronted with an annoyed angry lady who looked like a cross between Zelda from Terrahawks and Kara the Darian alien from Space 1999 (click on the links to get a visual image). I apologised, of course, but even as she chastised me I could not take my eyes off her outrageously flowery swimming cap. Later in life I must have been in a garden or park and I saw a Hydrangea. The memory of fear came flooding back to me. It was her. The angry lady swimmer in the flowery swimming cap. The association with mophead Hydrangeas and a fear of ladies retro swimming caps was sealed. There was no way I could like Hydrangeas now.
If my dislike of Hydrangeas was so strong, you may wonder why on earth I would buy a book about these plants. Well, after visiting many garden centres and commercial plant nurseries over the years I fell in love with Lacecap Hydrangeas. To me Lacecap Hydrangeas look like a collection of pretty butterflies fluttering around a beautiful flower. That's an association of happiness. What's more I also discovered panicle Hydrangeas whose flowers look like giant Mr Whippy ice creams, or Marge Simpson's hair. That type of Hydrangea makes me smile. And so, even my dislike of mophead (ladies retro swimming cap) Hydrangeas has turned more into humour than fear. Plus, Hydrangeas are actually a cracking plant to introduce into a garden, and Naomi Slade is one of my favourite garden writers so I knew I'd learn so much more about these amazing plants. Together with spectacular photography from Georgianna Lane, this book was always going to be a real treat, and a special treat is what it most certainly is.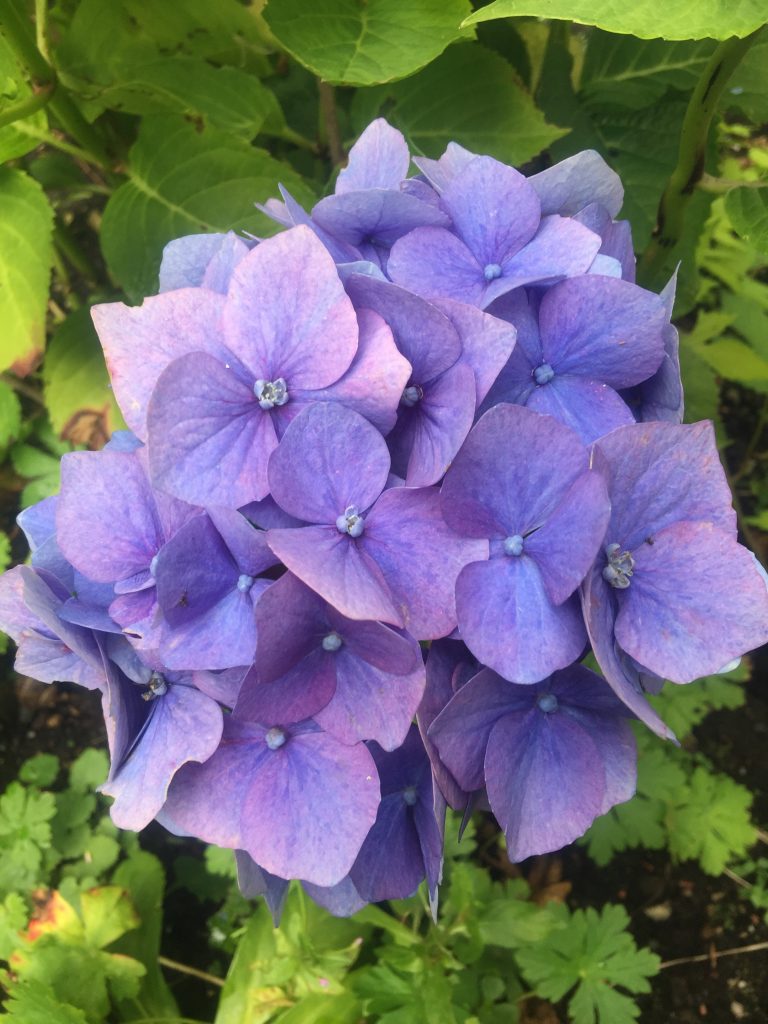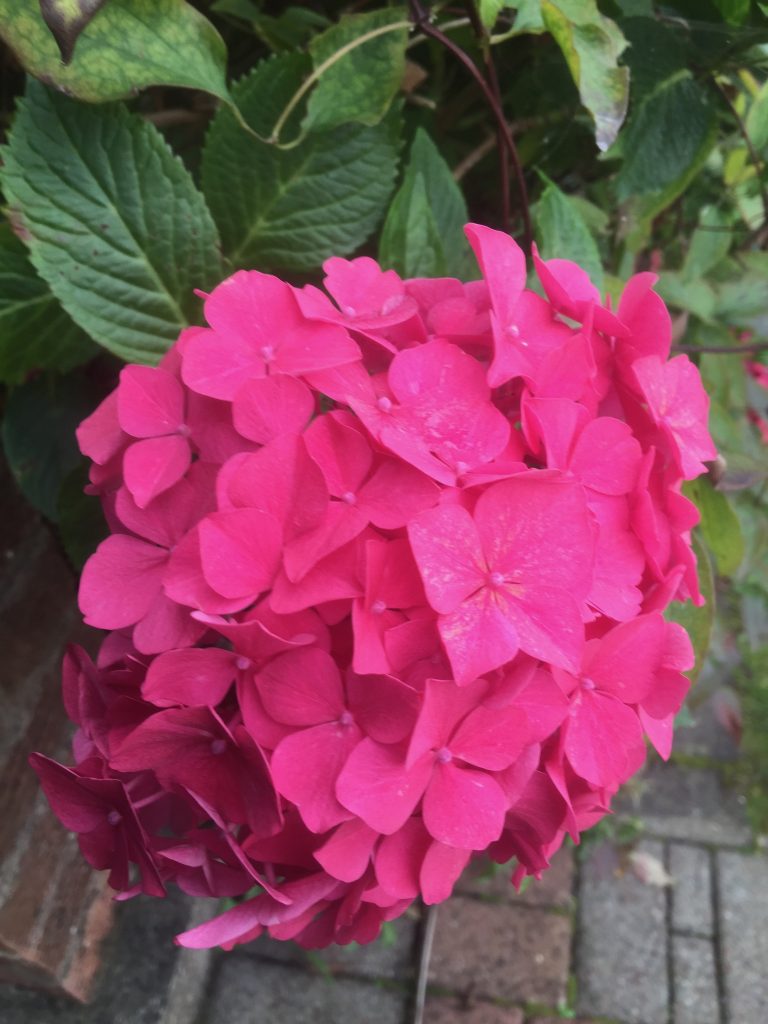 The History and Cultivation of Hydrangeas
The book begins with a history of the Hydrangea. I find history fascinating, especially plant history. The reader of this chapter will learn about where Hydrangeas originate from, how did they manage to get into gardens in the UK, and what makes these plants so versatile. The reader will also learn how soil ph (acidity & alcaline level) can change the flower pigmant colour of this chamelion like plant. At the end of this chapter the book covers some hints and tips about using Hydrangeas to design and decorate the home and garden. From a simple freshly cut flower head placed in a jar in the kitchen, to observing yet more colour changes as the flower petals dry out. This plant really is a performer who can make us feel happy.
The book then goes on to feature over 50 Hydrangeas under 4 chapter headings. I had in mind my own garden in East Kilbride when reading about all the beautiful Hydrangea varieties set out in these 4 chapters. East Kilbride is often very cold in winter, and is also notoriously very wet. Our summers are short. We get an above average rainfall, below average temeratures, and are much higher above sea level compared to the nearest city of Glasgow just a few miles away. Spring bulbs in East Kilbride often take 3 weeks longer to appear and flower than those in gardens in Glasgow. On top of that, our rear garden faces North and does not get the sun until after midday. It is also fairly small (10m x 10m, minus sheds, washing lines, patio, furniture etc), and much of my plant growing is in pots and containers. These are the factors to consider if, like me, you are planning to introduce a Hydrangea into the garden.
Elegant and Airy
There are 13 varieties of Hydrangea in this chapter.
I was immediately taken by 'Tuff Stuff' (also referred to as Cotton Candy or Blueberry Cheesecake). It is a Lacecap form and small enough to grow happily in a container.
'Wedding Gown' was another that caught my eye with its simple colouration, its stunning double flower, small size and long flowering period. It's also described as good for a small garden and ideal for containers. 'Wedding Gown' is on my list of possibilities for my own garden.
This chapter also features the climbing Hydrangea, H. petiolaris.
"Every bloom is perfect, fully double star, opening gradually from green to chartreuse, and finally to white. As more and more florets unfold, they unite to create a dramatic white dome, at the same time exceedingly restrained and utterly fabulous."
"Its picotee-edged flowers are fully double, a lacy frill of stars nestling inside stars, which gives each floret a layered, three dimensional quality, like the tutu of a ballerina engaged in some unusual inverted manoeuvre."
Pale and Interesting
There are 13 varieties of Hydrangea in this chapter.
I have planted 'Bluebird' a few times in the gardens of customers over the years. It's a beautiful soft blue Lacecap Hydrangea.
'Polestar' is unusual with its coral coloured stems and white and pink blush flowers. It's only 50cm fully grown so perfect for small spaces.
'Star Gazer' is my favourite in this chapter. The flowers look like sugar icing flowers around the bottom of a wedding cake, or a pretty bouquet held by a bride as she walks down the isle. A soft and pale kalediscope of white, pink, lilac and blue. Elegant and beautiful.
Cool and Crazy
There are 15 varieties of Hydrangea in this chapter.
If my garden was much bigger then I'd have to go for 'Vanille Fraise'. Its flower looks like a giant pink and white nougat bar in the shape of a swirl of ice cream. Absolutely delicious looking. Another would be 'Incrediball' – an incredible giant white flowering ball.
For my small garden, my favourite would be 'Glam Rock'. Its flower is a crazy mix of pistachio green, hot pink and light purple. It's fairly small at just under a metre fully grown, and would stand out and look amazing growing in a container. I must add this to my list of possibilities. Although the way the author describes the autumn leaves of 'Dark Angel Red' as 'smouldering redly like the hot embers of hellfire' could also be a contender.
"…sliding out of the wings in a gold lamé jumpsuit and war paint, to tumultous applause, comes Glam Rock. This is a flower that doesn't care what you think…Eye catching and borderline psychedelic, it is, like all the best rockers, a small plant but one that lives its life as a stadium event."
"The flowers are eye-catching and rather jazzy. Each sepal is rimmed white around a central coloured rhombus, creating a diamond patterened effect. But while some people find this sensational, others are less enamoured, considering it to lack subtlety. Indeed it could be accused of brashness."
Brilliant and Bold
There are 13 varieties of Hydrangea in this chapter.
'Together' is a mophead variety of Hydrangea. It's blue (if grown in acidic soil or in a pot with ericaceous compost watered with rain water), it's double flowered, and small. Sounds ideal. I'd just need to protect it from the worst of the cold.
'Harlequin' is eye catching, and I like that in a garden. It is described as perhaps being a bit tricky to find its pefect conditions, but I like a challenge. Keeping it in a container I can move around may well help.
If you fancy something most unusual take a look at 'Hopcorn'. Instead of the petals lying flat, they are curled up like a rounded bowl, or resemble pieces of popcorn.
Every Hydrangea described and photographed in the 4 chapters within the book is accompanied on the same page with a very useful quick reference guide setting out the following: height, spread, flower size, habit, colour, preferred conditions, hardiness, preferred place in the garden, and its performance as a cut flower for decoration and arranging.
Hydrangea Growing and Care
The final chapter in the book is like having a really good chat with a knowledgeable and helpful friend about what you need to know about Hydrangeas. There is guidance on the different varieties, hardiness zones and temperatures, what to consider when buying, planting, feeding, propogating, and pruning Hydrangeas. All rounded off with what pests and diseases to look out for and how to deal with them. This book has everything you need to fall in love with and learn to care for these ideal garden plants.
"By and large, hydrangeas are tolerant plants, but the genus is extensive and widespread. Knowing where key garden species originally came from and aspiring to replicate those conditions is, therefore, the fastest route to glory."
"…become familiar with the conditions in your own garden….think about where the sun falls and see where the ground has a tendancy to hang wet or dry out."
"Hydrangeas vary in their tenderness and tolerance of sun, salt, and moisture levels, so it is simplest to select one to suit your region."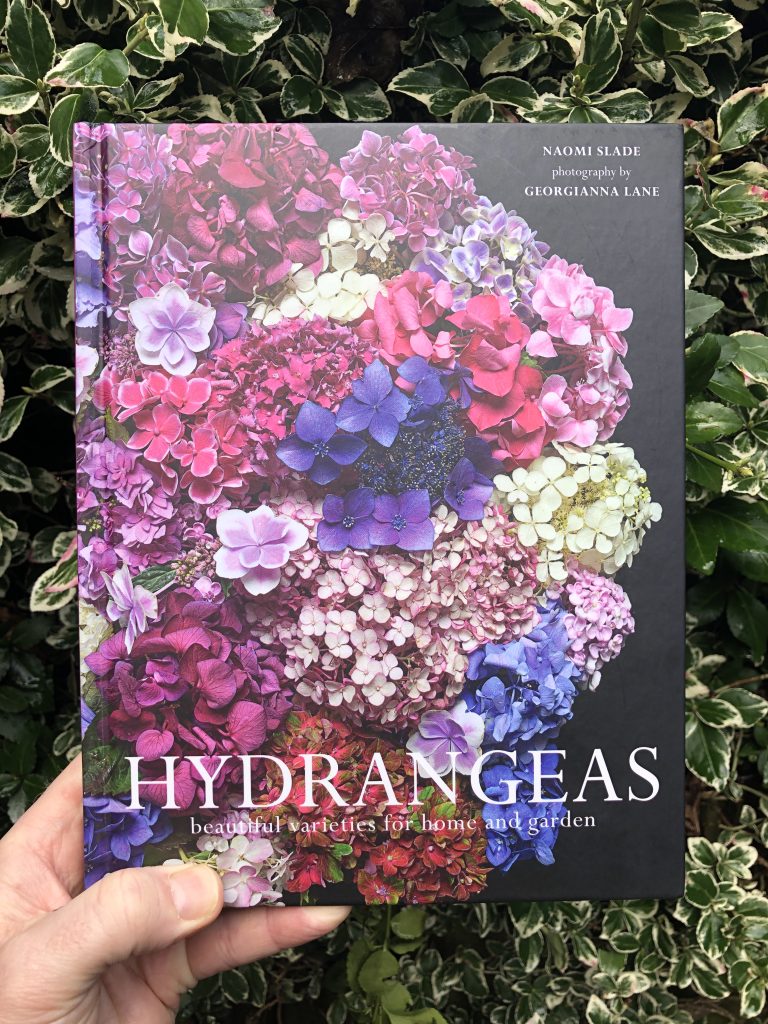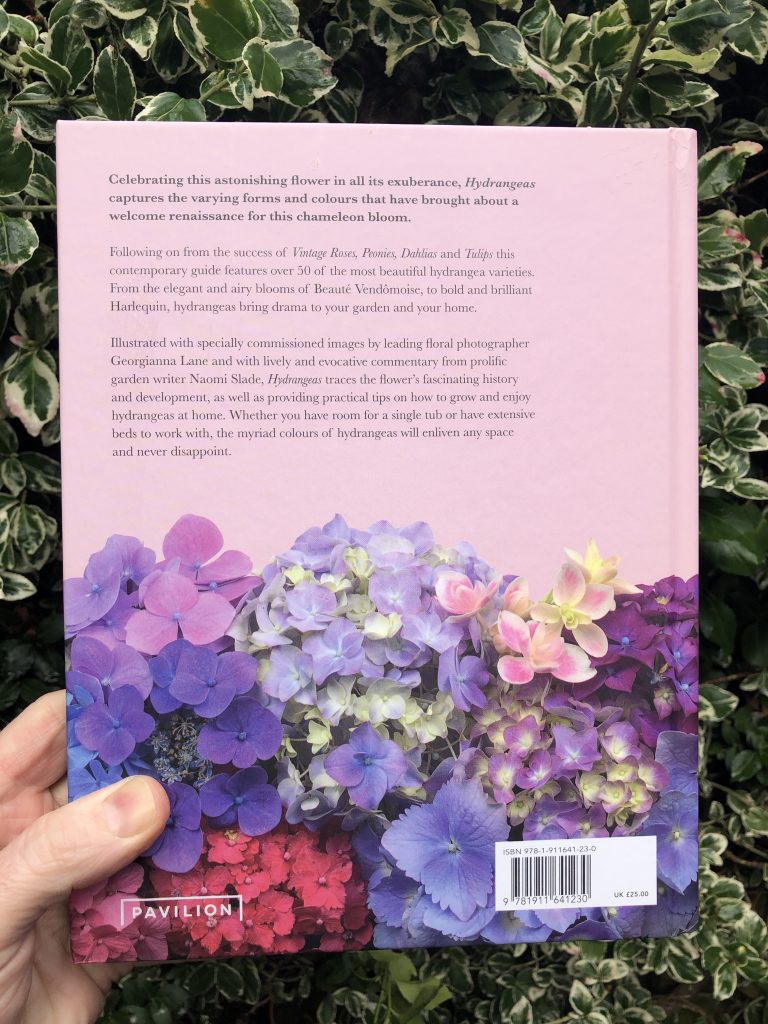 Summary
Naomi Slade is without doubt a writer who connects not only with plants but also with people. She knows how powerful a personal connection to plants can be. Plants can lift a low mood, they can excite, they can remind us of loved ones, memories of times past, the wonder of the future, and above all, they can bring joy and happiness. This is what I get from reading a book like Hydrangeas. I also get an overwhelming desire to go out and buy a Hydrangea. That is the power of Naomi's talent as a garden writer.
This book is a treasure trove of information and photographs, and an absolute pleasure to read. I would most certainly recommend it to anyone who wants to learn more about this great garden plant.
I would love to know if you have a favourite Hydrangea. Is it one featured in the book? Is it one you grow in your own garden? If you want to, let me know in the comments section below. You can also find me on Twitter @MrMrsGardens if you want to share a photo of your beloved Hydrangea.
The author, Naomi Slade, has a website where you can learn more about her, and her many other books https://www.naomislade.com
The photographer, Georgianna Lane, also has a fine art and photographic website where you can view her many other works https://www.georgiannlane.com