The photographs on this blog were taken by us and are owned by Mr & Mrs Gardens Limited. They are not photographs from the book.
Lilies – book review
We can't really have Lily flowers in our house for too long. The pollen given off by a Lily in a bouquet is enough to cause a reaction in my wife's eyes and throat, and quickly lead to a very painful headache. Her head aches, her eyes swell up and turn red, and she finds it difficult to breathe. I have a similar reaction to Lily pollen, although not quite as profound or as quick to appear as my wife's experience. It's a shame as we both really like Lily flowers. If a bouquet containing Lilies comes into our house we do our best to carefully snip off the filiaments and anthurs as soon as the flowers open. It helps a little, but by goodness some Lilies sure pack a pollen punch.
I knew not all Lilies were heavily scented, but I didn't really have the desire to experiment or research what would work and what was best avoided. That was until early in 2021 when the wonderful garden writer Naomi Slade tweeted her new book Lilies was available to preorder. Fantastic! I ordered it. Not only would I get to learn more about Lilies, I would also get to read more from a writer who has an amazing talent for being able to take the reader to gardens full of pleasure, plants, interest and knowledge. Naomi also teamed up once again with the extraodinarily talented garden photographer Georgianna Lane. Georgianna's photography compliments Naomi's writing so beautifully. If you are anything like me, you will find yourself reading then staring longingly at the photographs without being aware you have drifted off hypnoticly to somewhere else. Transported to a garden looking at the flower right in front of your eyes, the words you have just read go around your head in circles of enjoyment. You are in a happy dream like space. For a writer to be able to enduce these feelings in a reader is a true gift, and one I will never tire of experiencing.
I have grown Lilies in the past, rather unsuccessfully. I grew 'Queen of the Night' because a friend, The Prison Lawyer, is a big fan of Dundee United Football Club. Queen of the Night has an almost black and tangerine colouration, the same colours as the football club. My aim was to illustrate to people that plants can be grown and loved for all sorts of reasons. It can even be because the plant reminds them of their favorite football team. My Queen of the Night lilies lasted about 2 or 3 years. Eventually, and perhaps inevitably here in East Kilbride, the persistanly wet autumns and winters resulted in the bulbs rotting. Not to be deterred, and with a desire to learn so much more about these plants, I got stuck into consuming the 239 pages of this book in just 2 days. It was an absolute joy.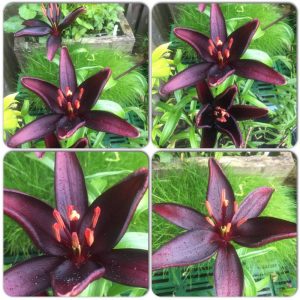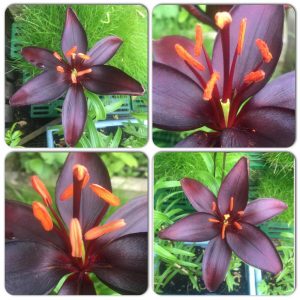 The History and The Botony
The book begins with a history of the Lily. From the Egyptians to ancient Greek mythology to Roman times, and into modern times, the Lily has had a place in hearts, minds, stories, religion, art and literature. The reader will learn that the strong scent of the Lily has been used to mask the smell of the dead for millenia. The Lily is also used to symbolise innocence and purity, and yet is also regarded by many as a flamboyant, erotic and sensuous flower. A flower of love, passion and sexuality. The Lily (Lilium genus) has all of the above qualities in abundance.
For the plant purists, and those who want to be horticulturally entertained and educated as well as stare lovingly at exquisite photography, the beginning of the book also covers the botony of the Lily. The reader will learn about the variety of Lily bulbs, the variety of leaf and flower arrangements, and the classification and divisions of the Lilium genus. In a good book on plants I enjoy and need both the photography and the education. This book has both, and in her seemingly effortless way the writer takes the reader by the hand and waltzes them through the technical aspects to make learning a pleasure not a chore.
The book then goes on to feature over 50 Lilies under 4 chapter headings:
The Elegant and Dainty
In this chapter the reader learns that Lilies can be subtle, soft, tender, delicate, caring and loving. There are Lilies that don't look (or smell) like the Lilies you may traditionally find in a florist bouquet. My favourite in this section would be 'Soft Music' – pollen free and delicately scented. 'Natalia' is also beautiful, 'Sorbonne' is sexy, and 'Anouska' is so innocent and flawless it could bring a tear to an ex-Commando's eye.
"This is a flower that is almost decadent, practically sybaritic, but undoubtedly special. It nestles into a bride's bouquet or boudoir as if it belongs there; it would welcome in new motherhood and speaks volumes on behalf of an adoring lover, to one who might be cherished and nutured."
Wild and Wonderful
Hang on to your comfy seats and be prepared to be amazed at the Lily varieties in this chapter. The crazy 'Magic Star', the punkish 'Distant Drum', the blinding 'Exotic Sun', the truely wild "Kuchibeni' (it looks like a wild animal). My favourite would be 'Sunny Azores'. It looks like a lemon and vanilla sorbet. I could almost get a spoon and dig in. Unfortunately for me its scent is described as intoxicating, so bringing it inside my house is likely to strangle me before I've finished eating it.
"Distant Drum is a flower that must have supped deeply from the cup of punk culture. You could imagine it hanging out with Andy Warhol, singing along to classic David Bowie and Debbie Harry, chatting to Sid Vicious at a bar for a bet and taking style tips from Toyah Willcox and Vivienne Westwood."
Fiery and Fabulous
Be warned, the Lilies in this section are in your face. 'Red Eyes' (heavy scented) would give me red eyes but it might be worth it, 'Viva la Vida' would dance until everyone else drops, 'Amarossi' is tall and looks very amorous, and 'Lady Alice' is beautiful, and she aint no Lady. I would happily meet with 'Mascara'. A dark mysterious Lily who I could spend time with (no scent). 'Superbum' would also make me smile with its funny name, strange Turk's cap Lily shape, and bright orangiboom colour.
"Quite the little vamp, it produces evocative Little Shop of Horrors buds that expand into a thing of dark beauty. The tones are inky with blood and iniquity, but the hint of ginger implies an irony that is far more Rocky Horror Show than Dracula."
Majestic and Magnificent
I'm only 5 foot 8 inches tall (172cm). Some of the Lilies in this section are nearly as tall as me, and some even taller. Their flowers would be as big as my face. 'African Queen' looks more like an unusual orange daffodil than a traditional florist's Lily. 'Casa Blanca' is big, white and bright. At over 6 feet tall 'Purple Prince' would be much taller than the artist formally known as Prince. My favourtite in this section would be 'Silk Road'. Even looking at the photographs is enough to mesmorise me. If I had to choose another favourite it would be 'Zambesi' for its pure white simplicity, and because its scent is described as like a marshmallow – yum!
"Tales of trade and daring exploits between European countries and the exotic East, and in the other direction, too. It recalls Chinese textiles, images of peonies, chrysanthemums and cherry blossom, epitomizing all that is desirable, expensive and tantalizing."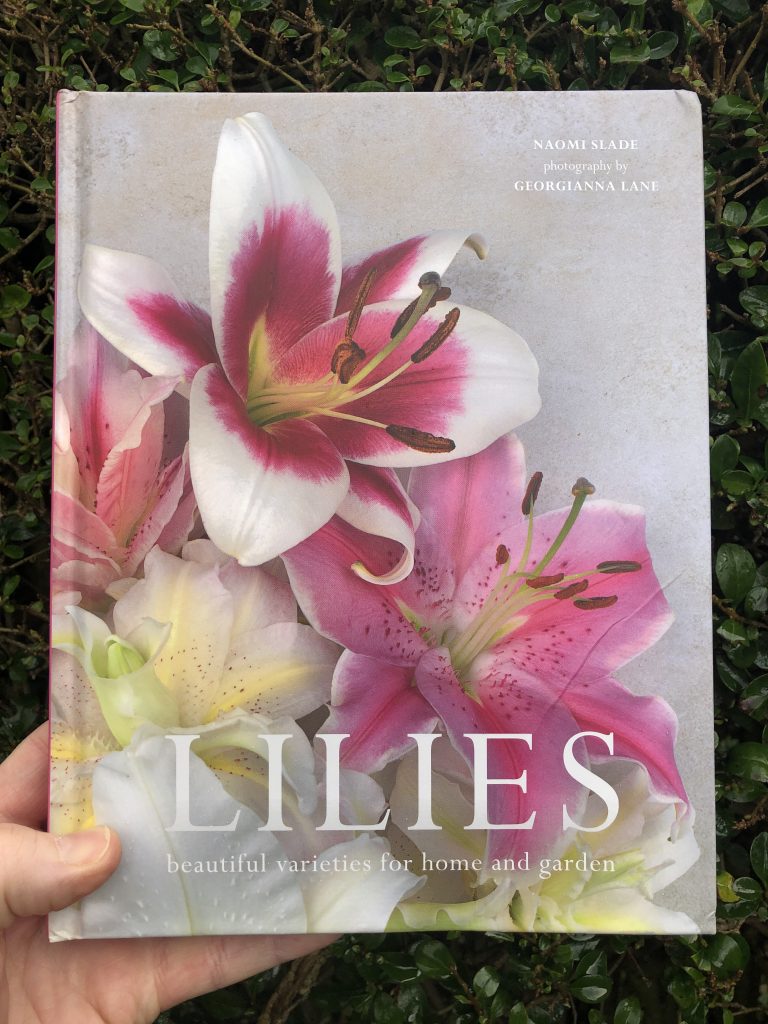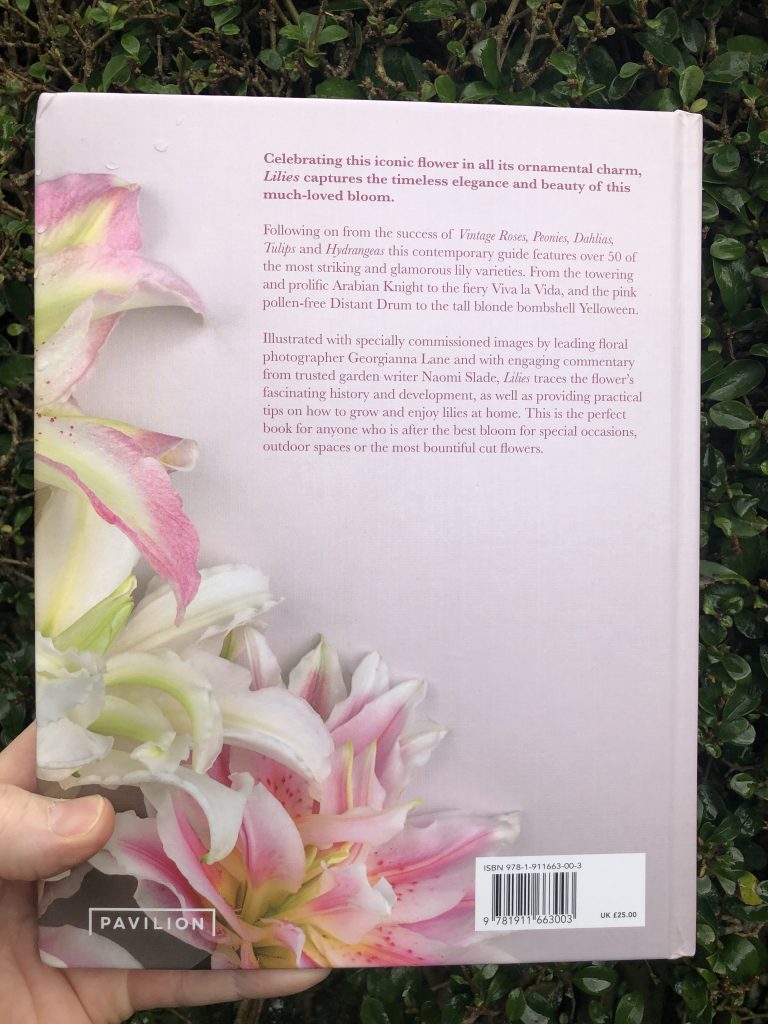 Every Lily described and photographed in the 4 chapters within the book is accompanied on the same page with a very useful quick reference guide setting out the following: flower type, division (1-9), height, flower size, colour, flowering time, scent, soil type, its preferred position in the garden or pot, and its versatility as a cut flower.
Summary
This wonderful book is absolutely exquisite. It's something to cherish. The images and text combine to give the reader romance and excitement for a plant lover's soul. There are some gardening books in my collection that I would be happy to lend out or even gift away. However, if someone wants this book they'll need to purchase their own. Lilies is too special for me to ever part with. I'm never giving it up.
If you love plants and are intrigued to learn more about the Lily, then I would highly recomend this book to you. Also, if there is a plant lover in your life then why not gift them a copy as a token of your love, perhaps together with a bouquet of flowers containing some (lightly scented) Lilies. It is sure to go down a treat. Enjoy.
The author, Naomi Slade, has a website where you can learn more about her, and her many other books https://www.naomislade.com
The photographer, Georgianna Lane, also has a fine art and photographic website where you can view her many other works https://www.georgiannlane.com