We are always keen to purchase and use garden maintenance equipment that helps us carry out our work more efficiently, so long as the equipment operates at a professional standard and enables us to leave behind a high quality finish in our customers' gardens. What's more, if the equipment can utilise 21st century battery technology and can fit into a commercial business environment we get even more excited.
We had our eyes on the Stihl HSA 25 shrub shears for quite a while, but until 2019 we had put off purchasing them. Up until then we simply used our other larger professional battery hedge trimming range to undertake the smaller light trimming jobs the HSA 25 is aimed at. However, when we found ourselves with a number of smaller trimming jobs booked in for early September 2019 we decided it was the right time to give these mini-shears a go.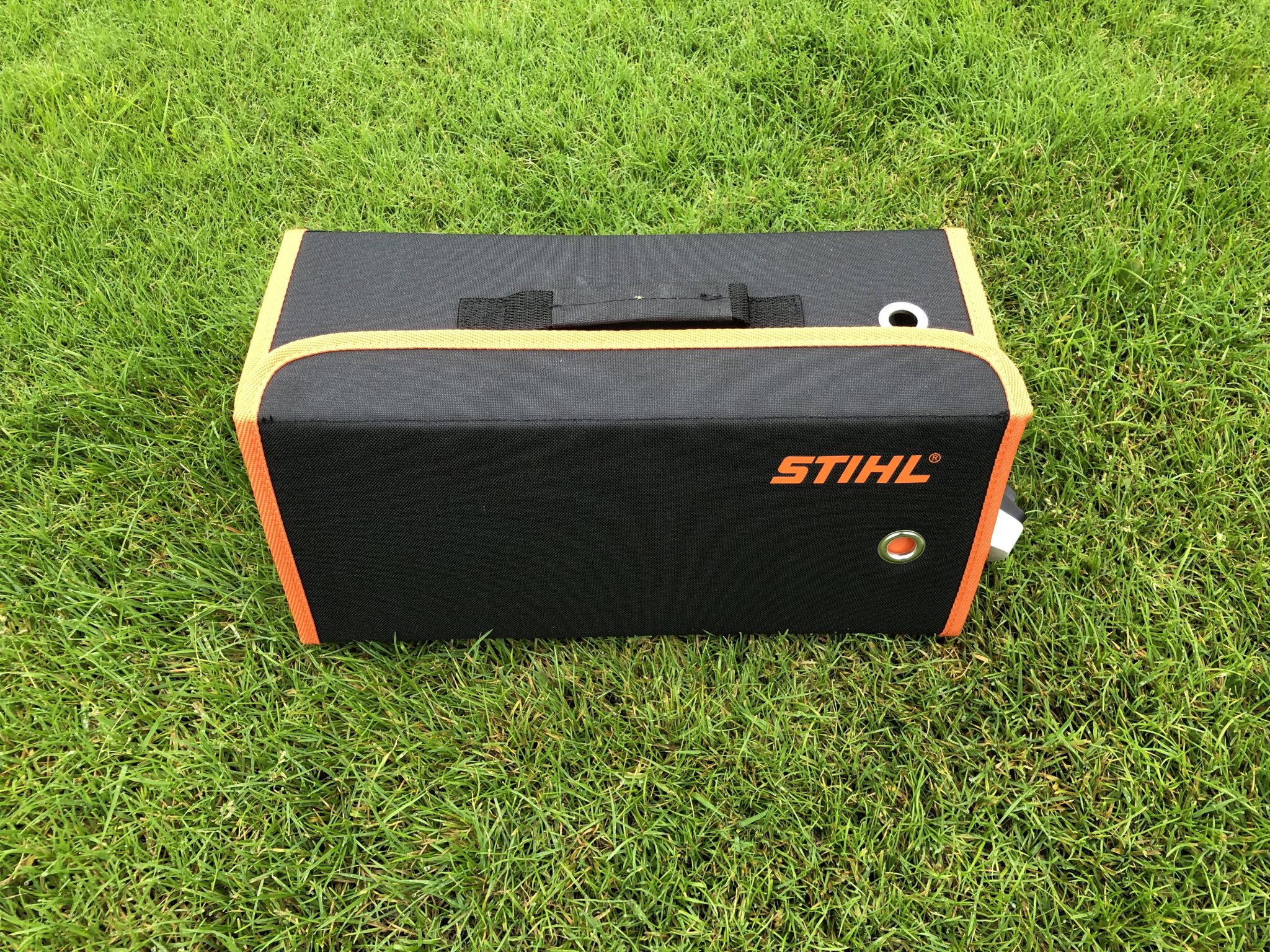 The shrub shears come packaged in a neat tool roll with a handle on the outside so it can double up as a carry case when it is folded. Inside you get the shrub shears handle (the power unit), a battery charger, a single battery, a shrub trimmer attachment, and a grass edge trimmer attachment. I had been a bit wary of only getting one battery and I feared I may have needed to buy another battery as a backup. However, the battery life boasts just short of 2 hours of run time (110 minutes). That was plenty of time to undertake those smaller trimming jobs these shears were designed for. Anything requiring a longer time than that and I would be selecting a larger trimmer.
Please don't be fooled into thinking these shears are going to be able to tackle a hedge, they are not. They really are for those smaller jobs. The type of jobs where you are looking to maintain or improve the shape of a shrub rather than where you are looking to take away a lot of thick woody growth. Think light topiary, rather than heavy pruning.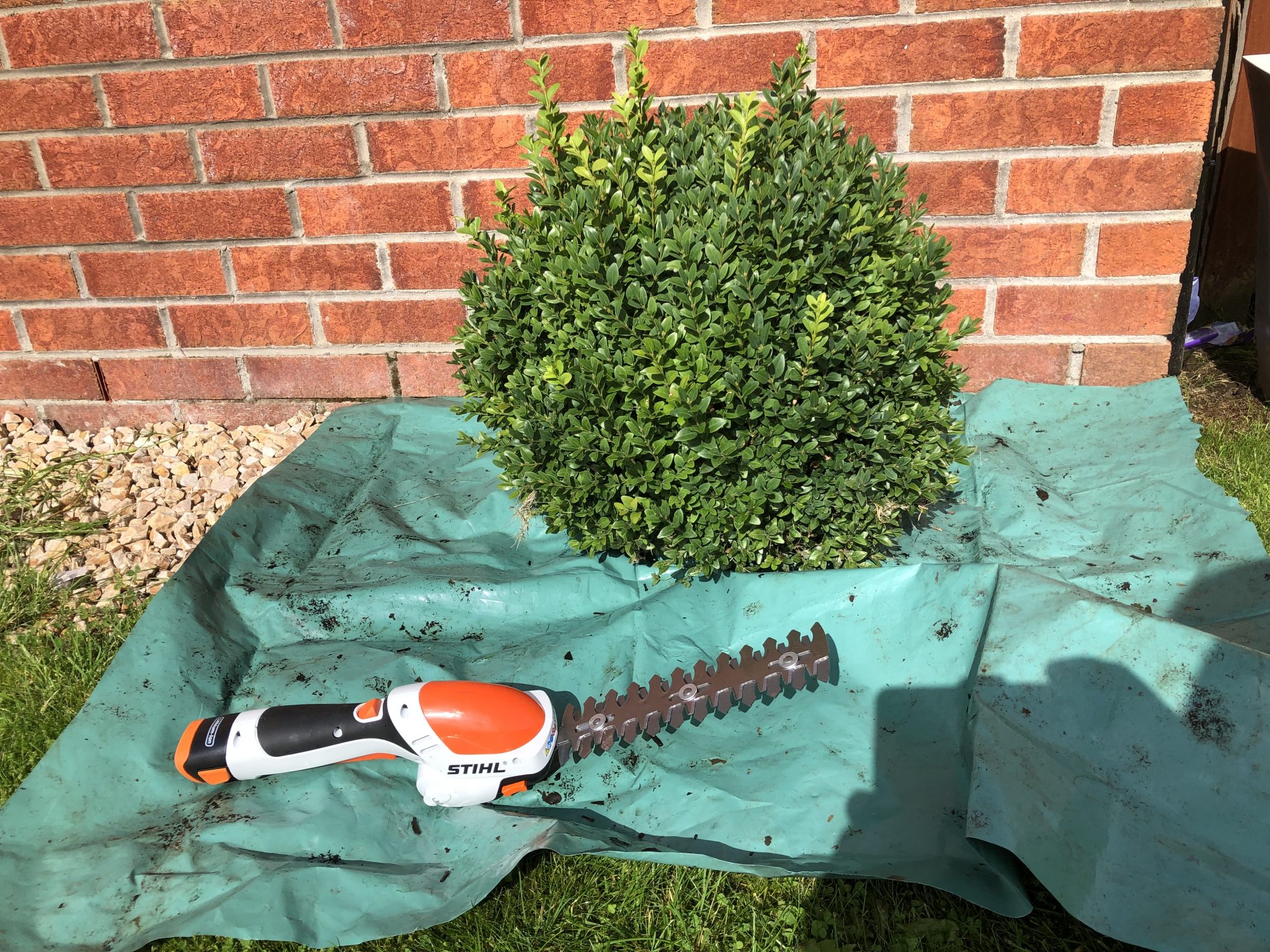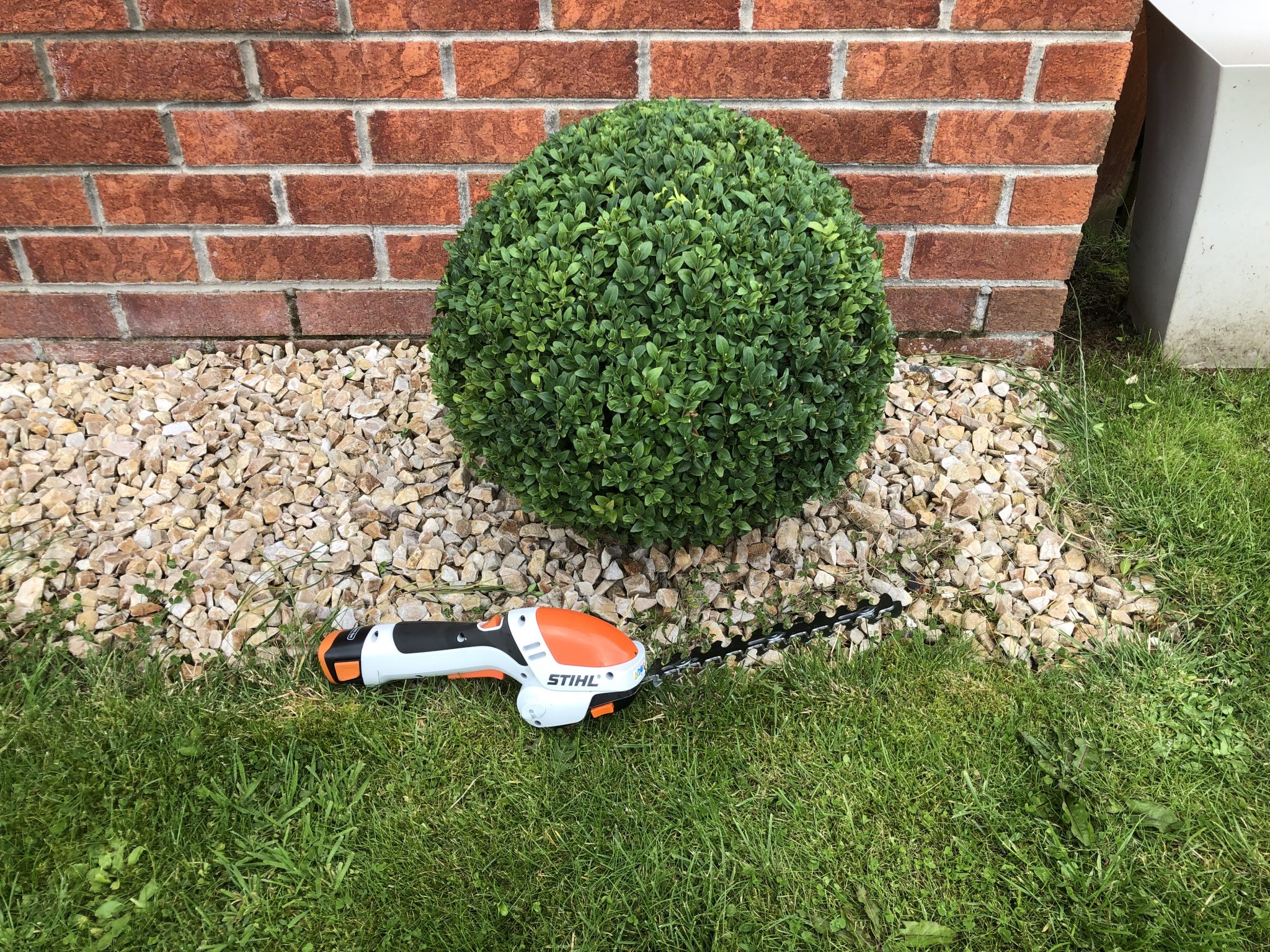 The first job I tackled with the shears was a set of 5 box (Buxus sempervirens) balls. The set of 5 balls were each only about 40 – 50 cm in circumference. The shears worked great. I was able to swap hands whenever I wanted to with ease. I could manoeuvre the shears around the back of the shrub and on the underside quickly, and the overall shape of the ball was improved by the added dexterity these small shears provided. I was quite impressed  The shears left a great finish.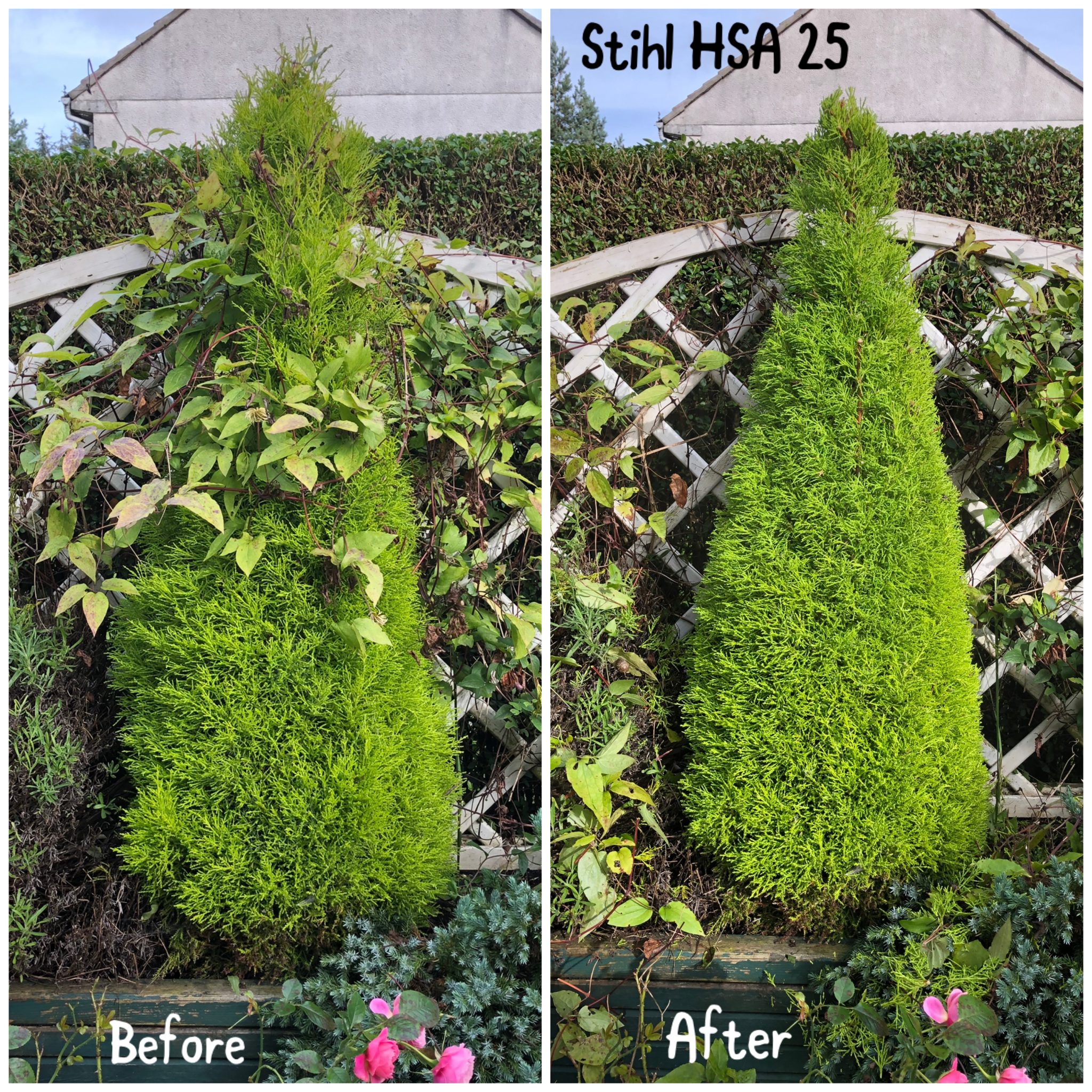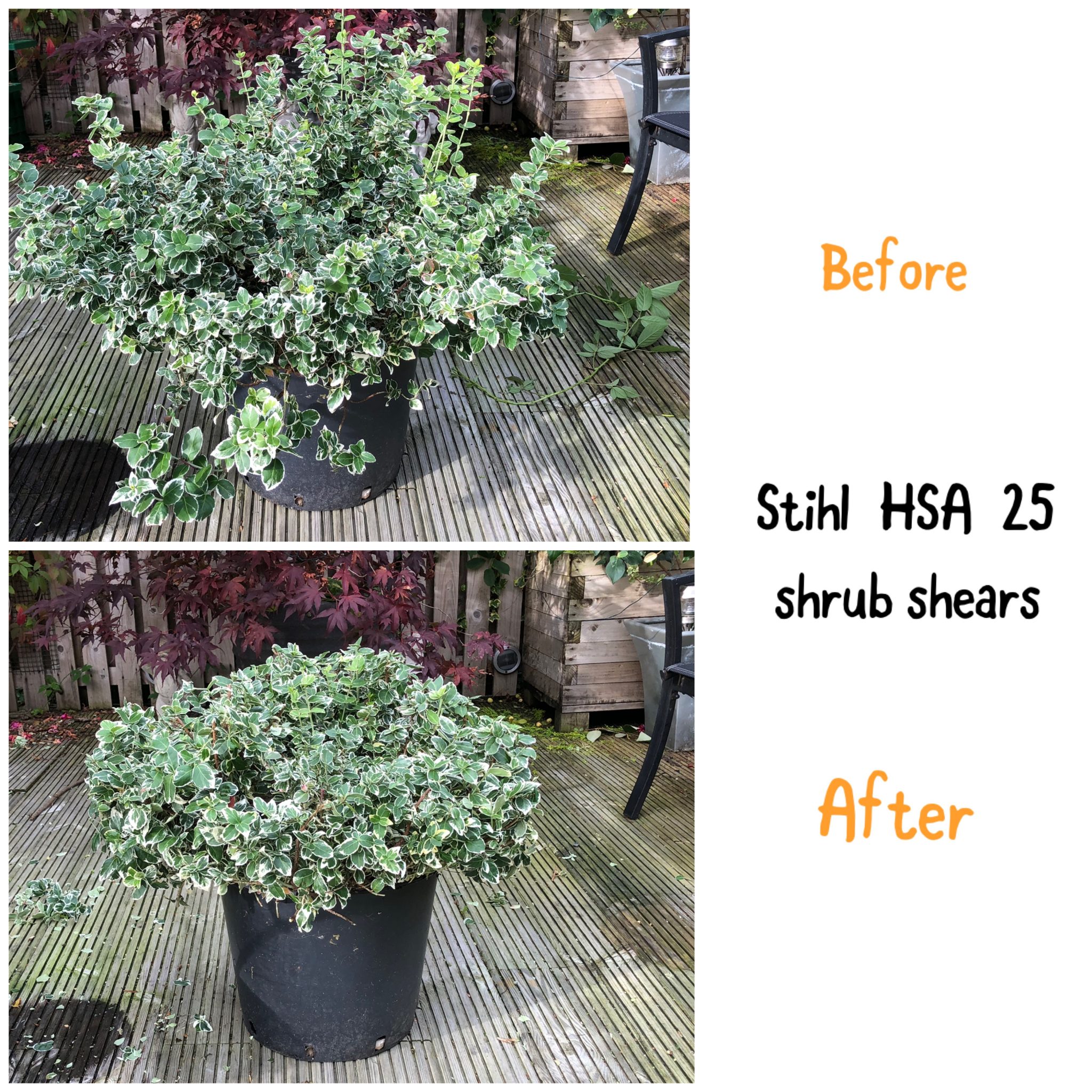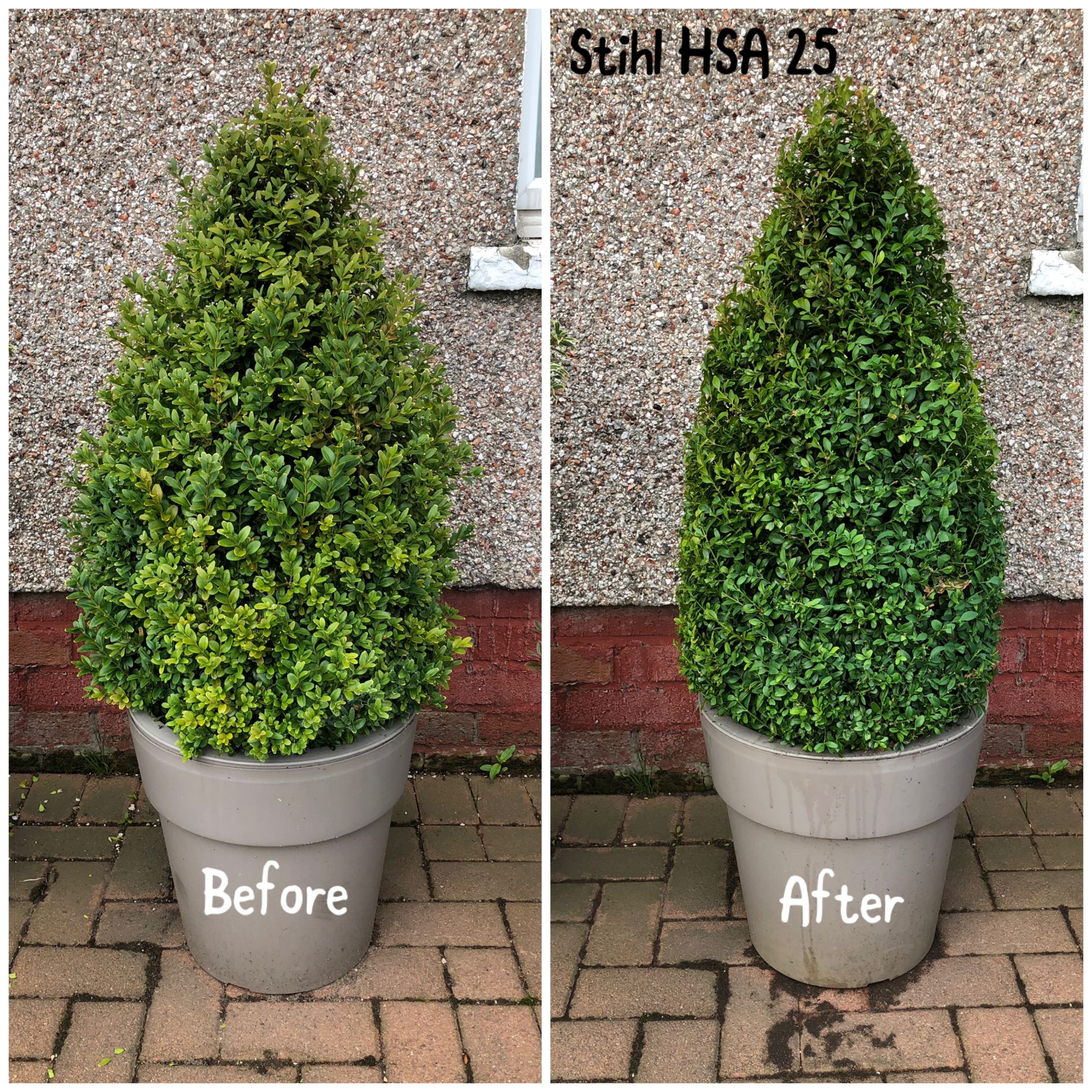 The next 3 jobs for the shrubs shears were a little more demanding than the 5 small Buxus balls. Once again the maneuverability of the mini-shears was ideal, especially on the conifers that were growing near a trellis. They also left a good finish, and if a piece of equipment can do that then it's always a welcome addition.  I did notice, however, that on these slightly larger trimming jobs, I needed to slow down my movements because the cutting speed on the HSA 25 wasn't as quick as a larger and more powerful set of hedge trimmers.
Positives
–  lightness & maneuverability
–  left a neat finish
–  battery life
–  I enjoyed using them
Negatives
–  slower speed than larger trimmers
–  softer metal than larger trimmers
–  smaller jobs only
–  items fall out of the open ends of the tool roll
Verdict
Overall I'm pleased we purchased these shrub shears. They are for specific small jobs only, where being able to maneuvere these small shears is an asset. I haven't used the grass edging attachment, although again for very small areas I'm sure they'd be okay.
I think these shears would be ideal for gardeners at home who find using weighty hand shears too difficult, and who don't want to go to the trouble of unwinding their electric hedge trimmers for small jobs. 
For the commercial gardener I don't see these shears taking the place of other tools that can do multiple trimming jobs.  However, for those who are looking at adding an extra bit of kit to deal with those small jobs needing a similarly mini-shear, then this may well be a handy item to  have.
We purchased our Stihl HSA 25 shrubs shears from our local Stihl dealer – Garden Machinery Services in Hamilton (link to their website Click Here).
Michael Thomson
Mr & Mrs Gardens Limited