The photographs of Tulips in this blog were taken by me and are owned by Mr & Mrs Gardens Limited. They are not photographs from the book.
The Plant Lover's Guide to Tulips – book review
I adore Tulips. There are so many colours and varieties. They are easy to grow, even in the cold and wet of East Kilbride (given the proper planning and positioning). They are a great plant to get someone interested in gardening as there is a Tulip variety for everyone. Choosing a Tulip variety to grow is like being in a sweet shop as a child – there is just so much choice.
As a gardener in East Kilbride I am always keen to learn more about what plants I can grow in my own garden, and to recommend to customers. I have grown Tulips sucessfully in my own garden, but I wanted to learn more about how I could best care for one of my favourite plants. I have read and reviewed another book in The Plant Lover's Guide series – see my review of The Plant Lover's Guide to Snowdrops – so I was confident this book on Tulips would give me the information, guidance and knowledge I desired.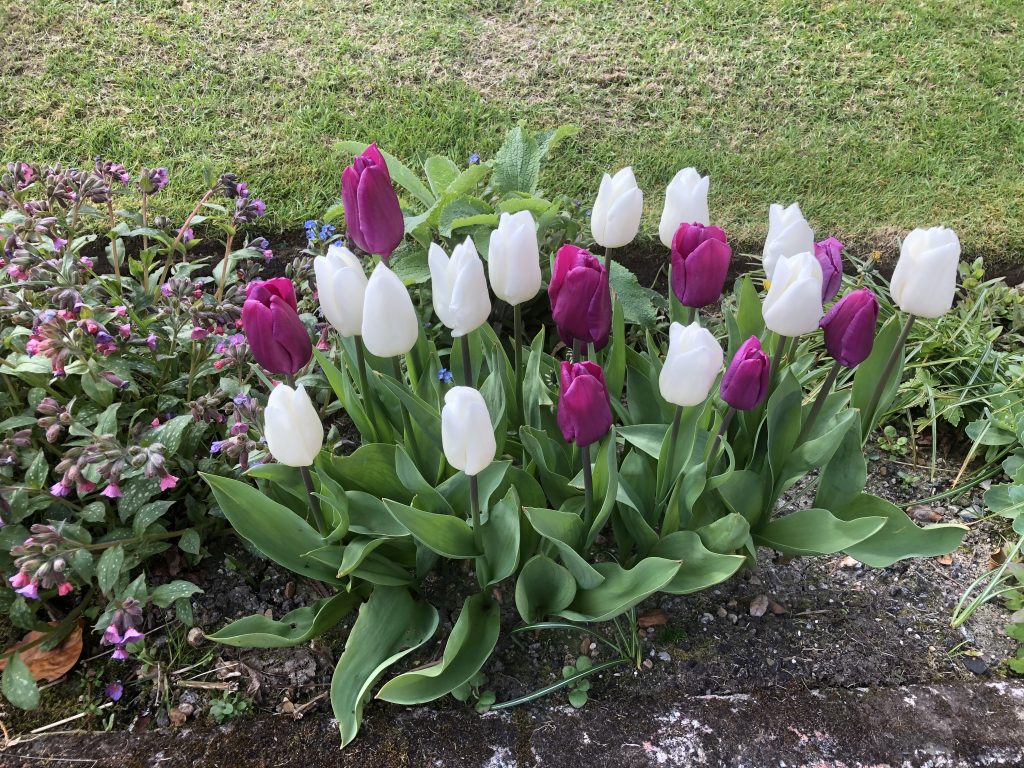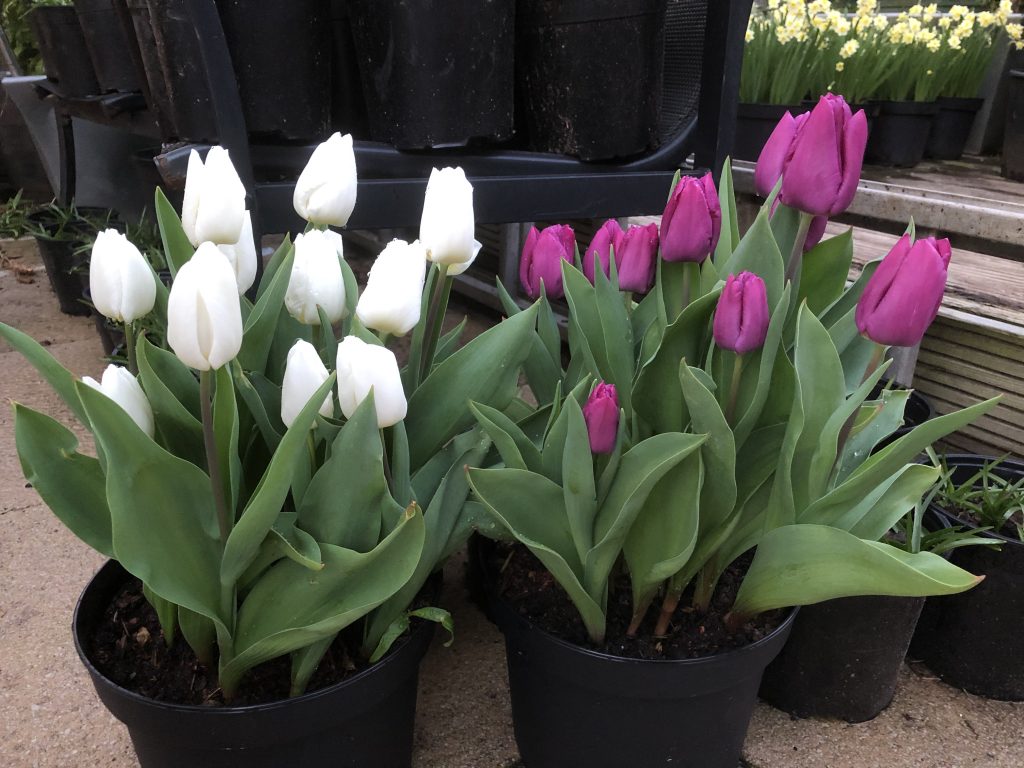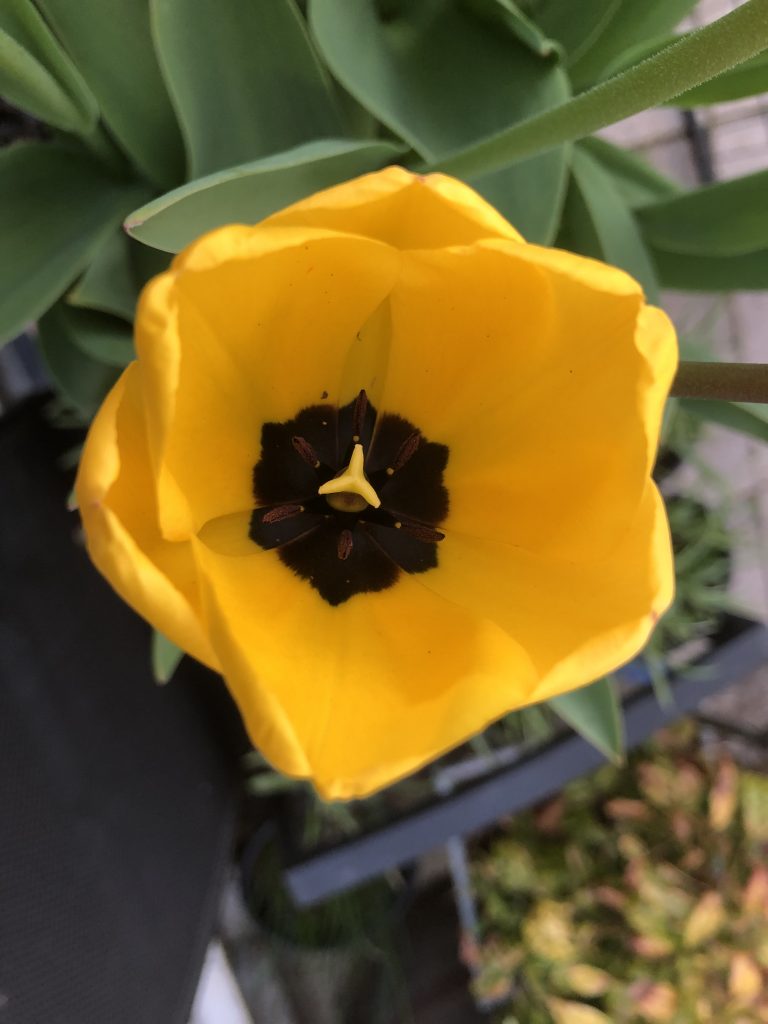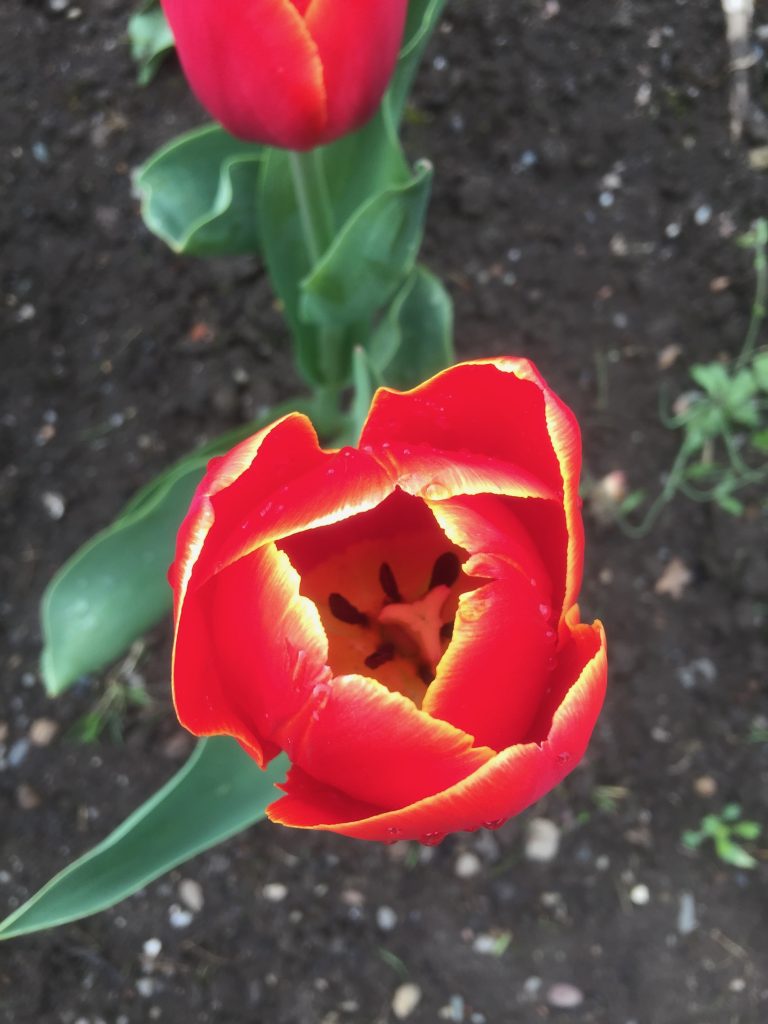 Why I Love Tulips
In this introductory chapter of the book the author, Richard Wilford, shares with the reader the reasons why he loves Tulips. Many people will relate to these reasons – be it the colours, varieties, shapes, sizes and the different ways they can be grown. It's no wonder so many public gardens are enjoyed by so many when Tulips are in flower.
Designing with Tulips
Here the reader will learn about all the many ways Tulips can be introduced into garden design. It is such a versitile plant. They can be used as part of a bedding and border display, in containers, in gravel, woodland, and rock gardens. Their colours can be used in a complimentaory or contrasting scheme. They can be grouped together in small groups or in huge blankets of colour. They can even be speckled lightly inbetween other plants to provide bursts of colour. If you can imagine it, Tulips can do it.
Understanding Tulips
This is the chapter where I gained a great deal of knowledge about these wonderful plants. I knew Tulips were divided into different cultivar groups, but I hadn't quite realised there were so many groups. Single Early, Double Early, Triumph, Darwin, Single Late, Lily, Fringed, Viridiflora, Rembrandt, Parrot, Double Late, Kaufmanniana, Fosteriana, Gregii, and for all those Tulips that don't fit in those groups there is even a Miscellaneous group. The author provides descriptions and gives examples (with photographs) of selected Tulips within each group. Also, very helpfully, at the end of this chapter the author sets out each group in their season of bloom – Early Spring, Mid-Spring, Late Spring.
100 Tulips for the Garden
This glorious chapter sets out 100 Tulips under colour headings; Red, Pink, Purple, White, Yellow, and Orange. Each of the 100 Tulips are accompanied by a beautiful photograph, a description highlighting its particular features, together with its Group, Height, Bloom Time, Cultivation, Design Uses, and Alternatives (as an option if your desired Tulip isn't available to purchase at your preferred supplier). This is the chapter where you will be making a list of all the Tulip varieties that take your fancy. If you are anything like me, your list of desirable Tulips will be long.
Growing and Propagating
All your questions about caring for Tulips are likely to be answered in this chapter. From hardiness to planting depth and spacing, to soil mixture, light levels, and that most asked of all questions – whether to lift and store them after they have died back or whether to leave them in the ground. Tulip pests and diseases are also covered in this chapter, as is propogation. My favourite way to grow Tulips is in containers, and this popular method of growing is also covered in this chapter.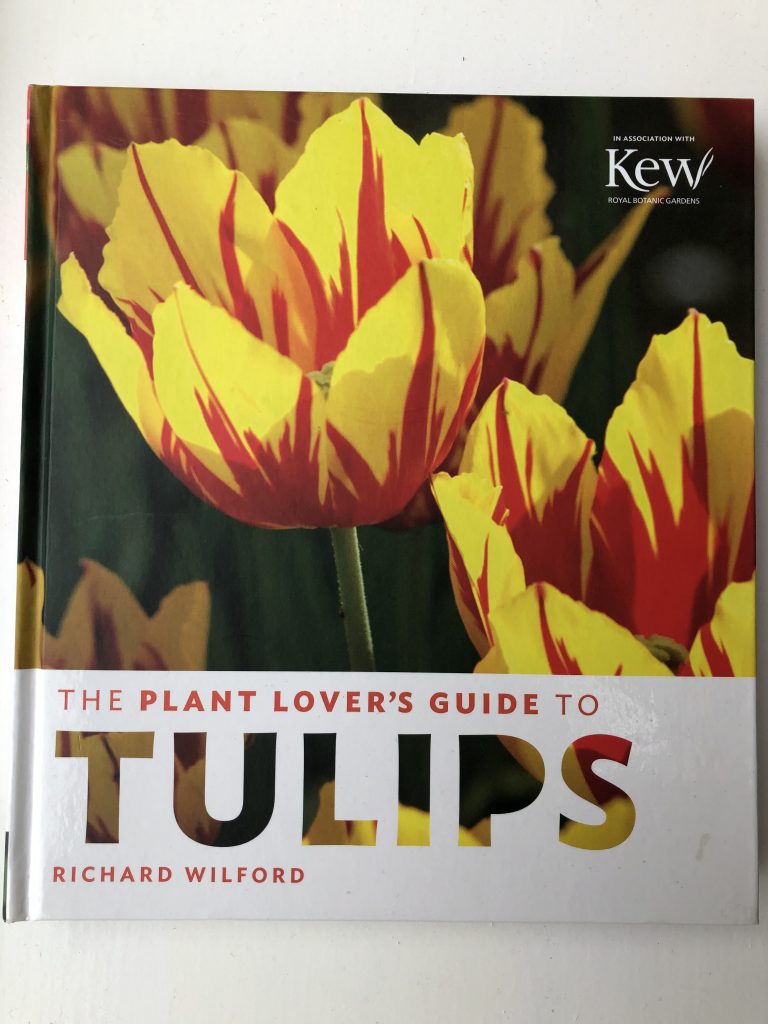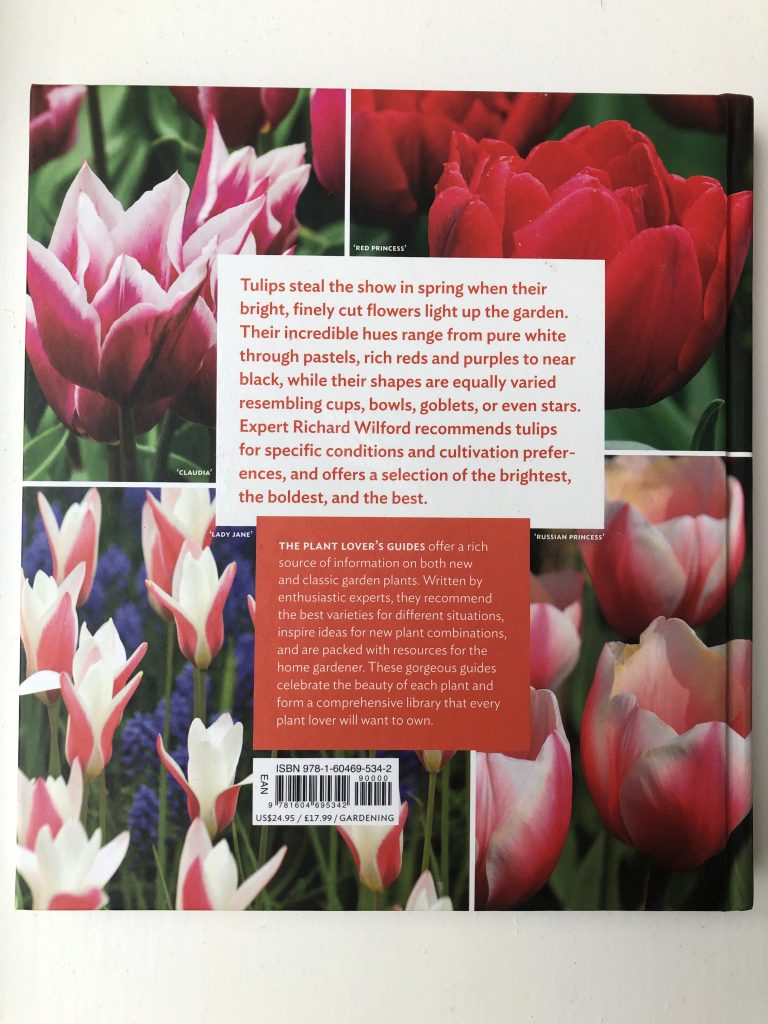 Summary
I enjoyed every page of this book. It has given me more confidence to experiment with new varieties of Tulip, at the same time as realising that living in a very wet, windy and cold East Kilbride may not be the best environment for every Tulip. Our weather here is certainly not great for growing Tulips in the ground, unless the area of ground is uniquely well draining. Our summers can also be annoyingly wet. I will continue to enjoy growing Tulips in pots where I have more control over their growing conditions, and I will be potting up some new varieties in the Autumn in readiness for the excitement of next Spring.
Me in our garden in Spring of 2020. I grew lots of Tulips in pots and raised money for the charity Crohn's & Colitis UK. If you would like to read more about why Crohn's & Colitis UK is dear to our hearts you can read my other blogs on this subject here – Crohn's & Colitis blogs