Pfanner clothing – review
I purchased this range of Pfanner clothing (pronounced fanner) in February 2020. I have worn them pretty much everyday while gardening in East Kilbride from March to November, and then less frequently between December to February. I have worn them in all weathers, from snow to hail, from sun to heavy rain, from crawling on my knees in flower borders to climbing up and down ladders to cut hedges, to walking 10-15 miles a day. I've put them through a thorough 12 month workwear test. The Pfanner range of clothing is perfect for my needs. I hope you enjoy this review.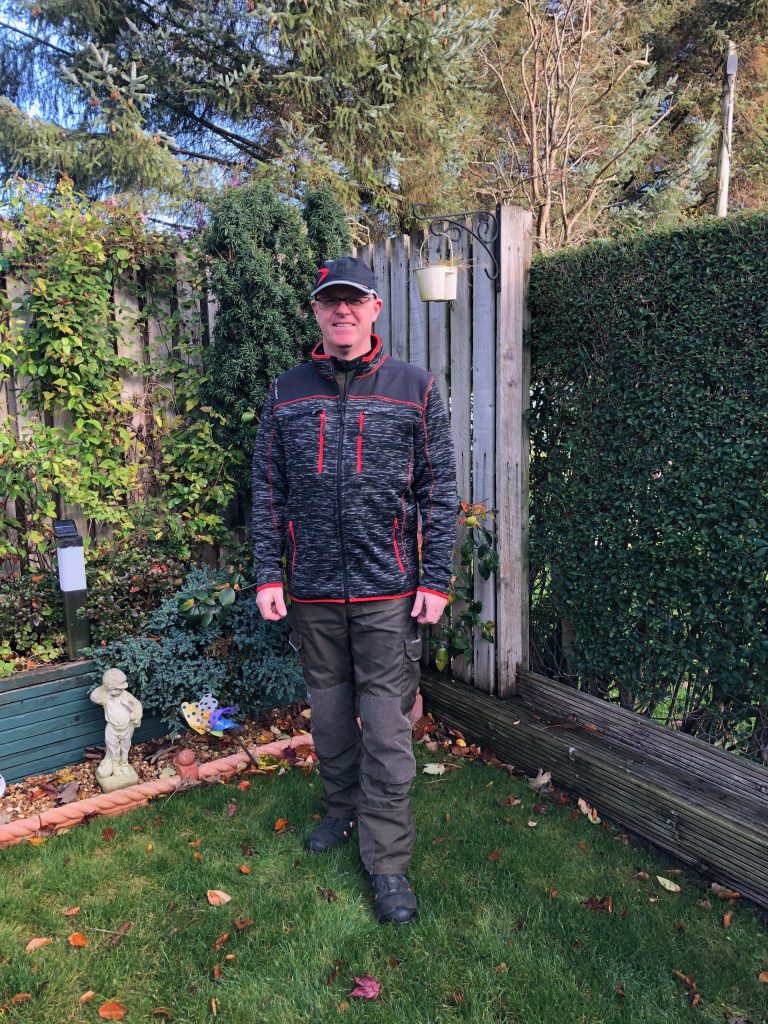 Pfanner Baseball Cap
I like this hat. It fits my head well and it's comfortable. The colours match my other Pfanner clothing. It's not water resistant though, and I'm not sure how long it would stay looking good if I wore it when I'm hard at work in a garden. Sweat and dirt won't easily be wiped off. I keep this baseball cap as a spare, to wear between jobs or on visits, rather than for wearing while working.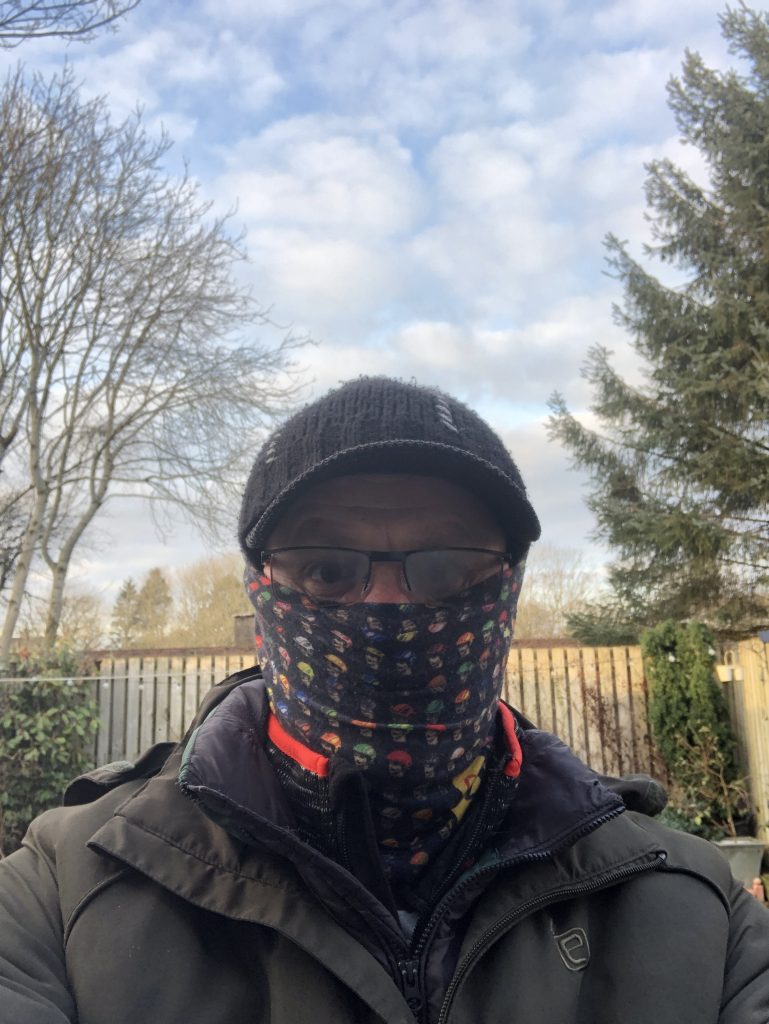 Pfanner Tubular head & neck scarf
This scarf can be worn in a multiple of ways to keep your neck and head warm. I double it up over my neck and pull it up over my mouth and nose and use it as a COVID-19 face covering. I'm fortunate to not have to do this very often as all my work is outdoors on my own. This neck scarf has become a great clothing accessory to wear during the colder winter months.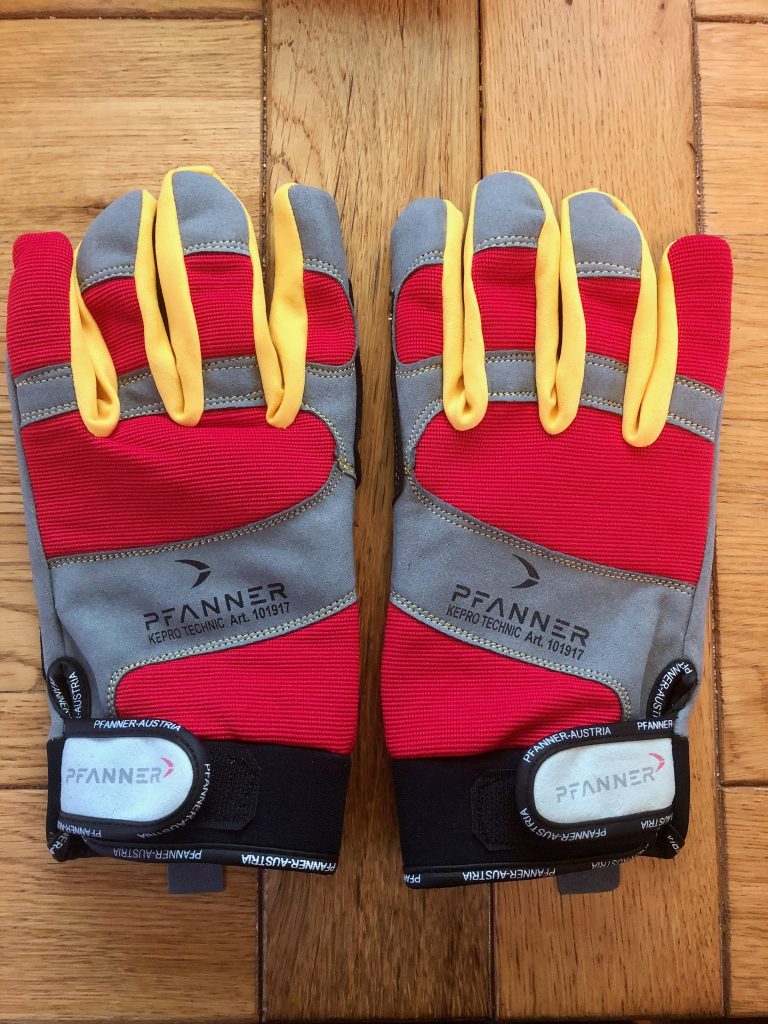 Pfanner Gloves
These are the StretchFlex KeproTechnic Pfanner gloves (I have no idea what that means). I like the colour. The red, grey and yellow give me a feeling of safety. I like the velcro wristband, which makes taking them off easy, and putting them on securely. They have protected my hands well. They work best when they are dry. They still protect when they are wet, but they do hold on to water, and when you add a bit of mud or wet grass they get a bit messy. However, once they are rinsed off with fresh water they can be popped into the washing machine.
I purchased 3 pairs of these and washed a pair every day. At the end of the year some stitching was coming away at the tips of the fingers and one or two of my fingers were exposed. Having said that, the gloves took a lot of abuse. They were washed every day, and they are still wearable. I would buy these gloves again. I would perhaps use them in drier weather and use some cheaper gloves for the wet and messy jobs though.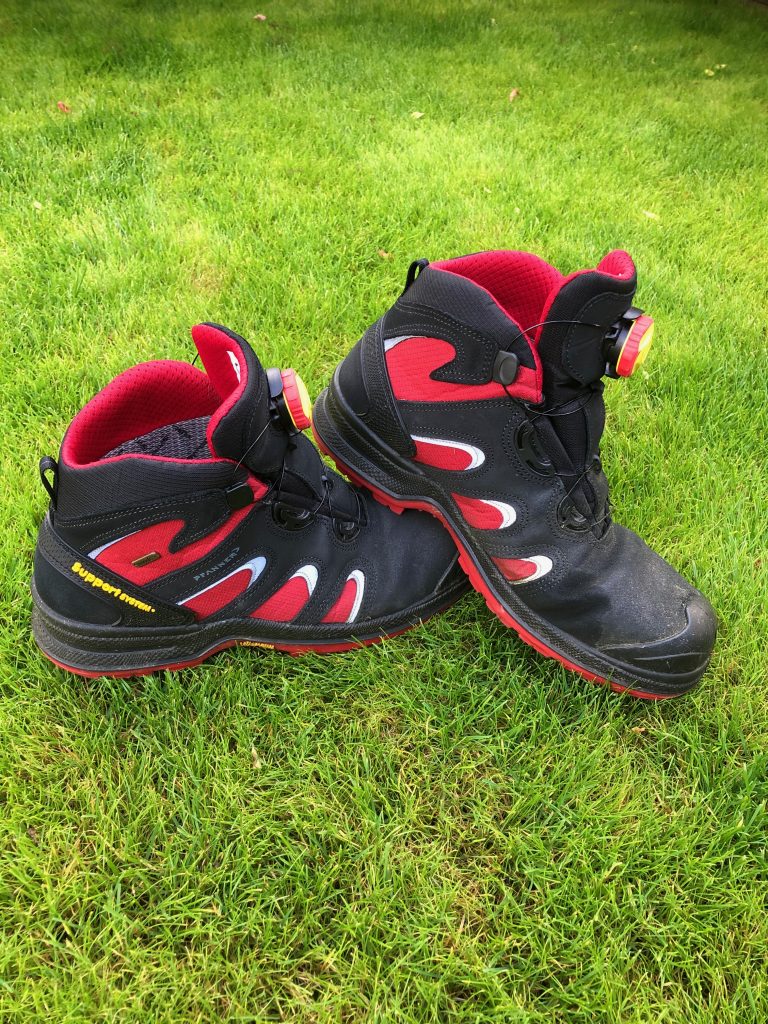 Pfanner Serguro High Shoes
I purchased these boots because I like the breathability feature for the summer months, and also the unusual quick twist lace up system. I have seen this type of lace up system on trainers, but never before on a pair of workwear boots.
They are indeed good for ventilation in summer, but in wetter weather they are not so good. My feet did get wet in heavy rain. I tend to keep these boots for the drier weather. Also, if I have a particularly long day ahead where I could be walking up to 10 miles behind a lawn mower, I DON'T wear these boots. They are just not that comfortable for long distances. They are okay for shorter drier days, but if I am being honest I was a little disappointed in the comfort of these boots compared to others I have used in the past (other brands that are more expensive, and even cheaper options, were far comfier for me than these boots). I have ordered a set of Pfanner upgraded insoles as I think with a better insole they may be more comfortable. We shall see. Personally, I think boots at this price point should come with a set of equally premium insoles.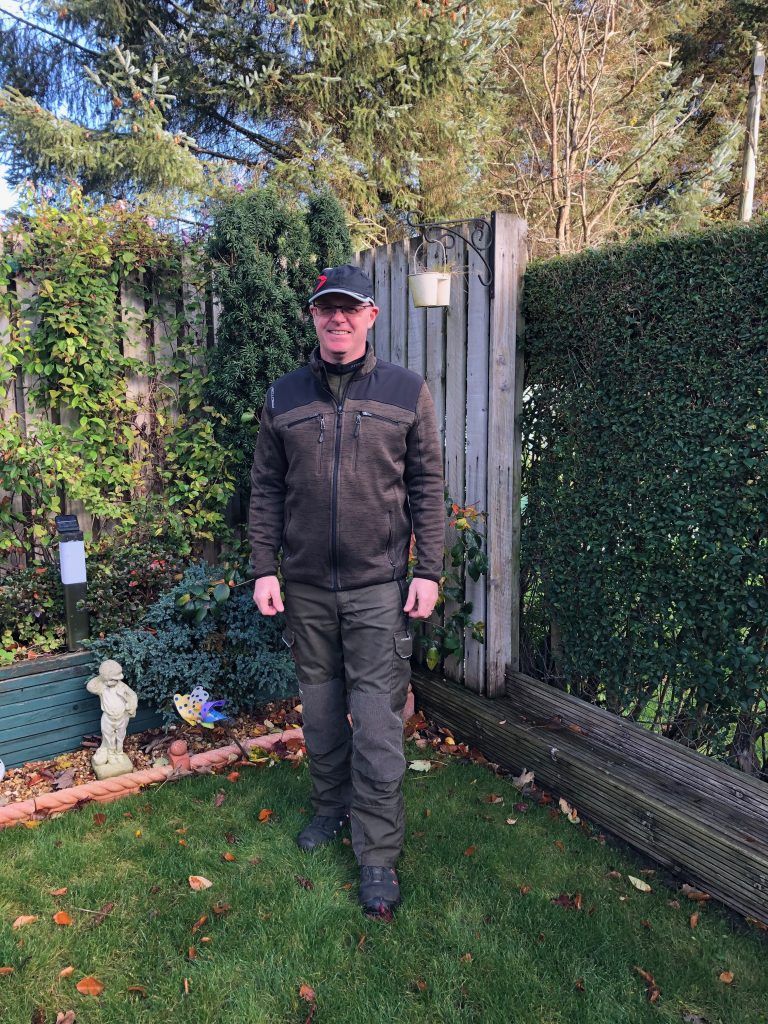 Protos Inuit Jacket
To me, this is more of a zipped jumper than a jacket. It's not waterproof, but it dries out really quickly. I could put this jacket in the washing machine at 6pm and hang it up to dry on a clothes horse away from direct heat, and it would be dry by 6am the next morning. That's great for an item of clothing this thick. There are a good amount of useful pockets with great zips – 2 chest pockets with double zips for easy access, together with pen / pencil holders – 2 side pockets with vertical zips – and one inside pocket with a horizontal zip. All of the pockets are big and deep and will easily hold an iPhone 8+ with a protective cover. The zips give me peace of mind that nothing will fall out. I absolutely love this Protos Inuit Jacket. It's really comfy to wear. It washes great – I have 3 and I wash and wear one nearly every day. It's warm, but not so warm that it makes me sweat too much after just a little bit of gardening.
The only negative I have to say about this jacket is the colour. I bought 3 in green – at least I thought they were green (I think I am a bit colour blind with the colours brown and green). I think the colour I received is more of a brown than a green. I know we could say it's olive green, but what is for certain is it's NOT the same colour as the one in the brochure. I contacted Pfanner directly about this. They confirmed the colour in the brochure is definitely NOT the same as the colour in reality – it just isn't. The fact is, there is only one colour of green available, and it is NOT the same as the one in the brochure. I have since exchanged one of my unworn green jackets for the charcoal colour option, and the colour match is spot on. I've also seen the grey and the blue coloured jackets, and those colours match the colours in the brochure perfectly. It appears to be just the green colour that is definitely not quite right.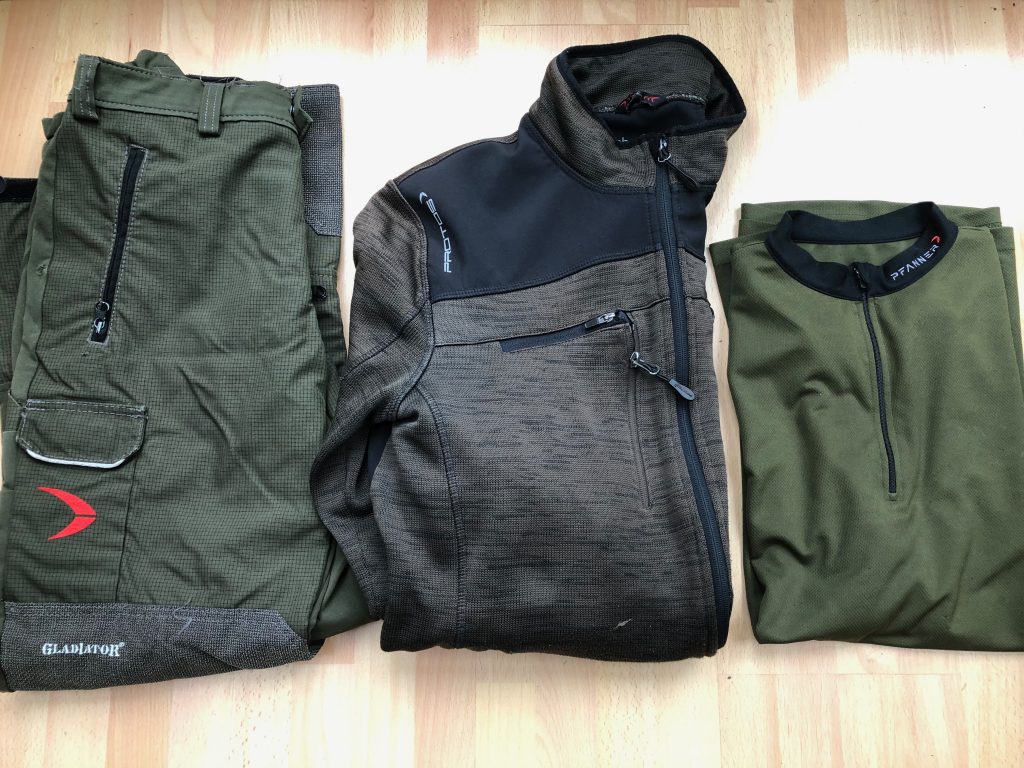 Difference in colour
You can clearly see in this photo that the Protus Inuit Jacket in the middle is a different shade of olive green to the olive green of the shirt and trousers. It is also nothing like the green in the Pfanner brochure.
Unfortunately, Pfanner informed me by email that the colour of green in the brochure does not exist. The brochure is wrong. There has never been a Protos Inuit Jacket in the shade of green in the brochure. I like my jacket, but it's not the shade of green I wanted.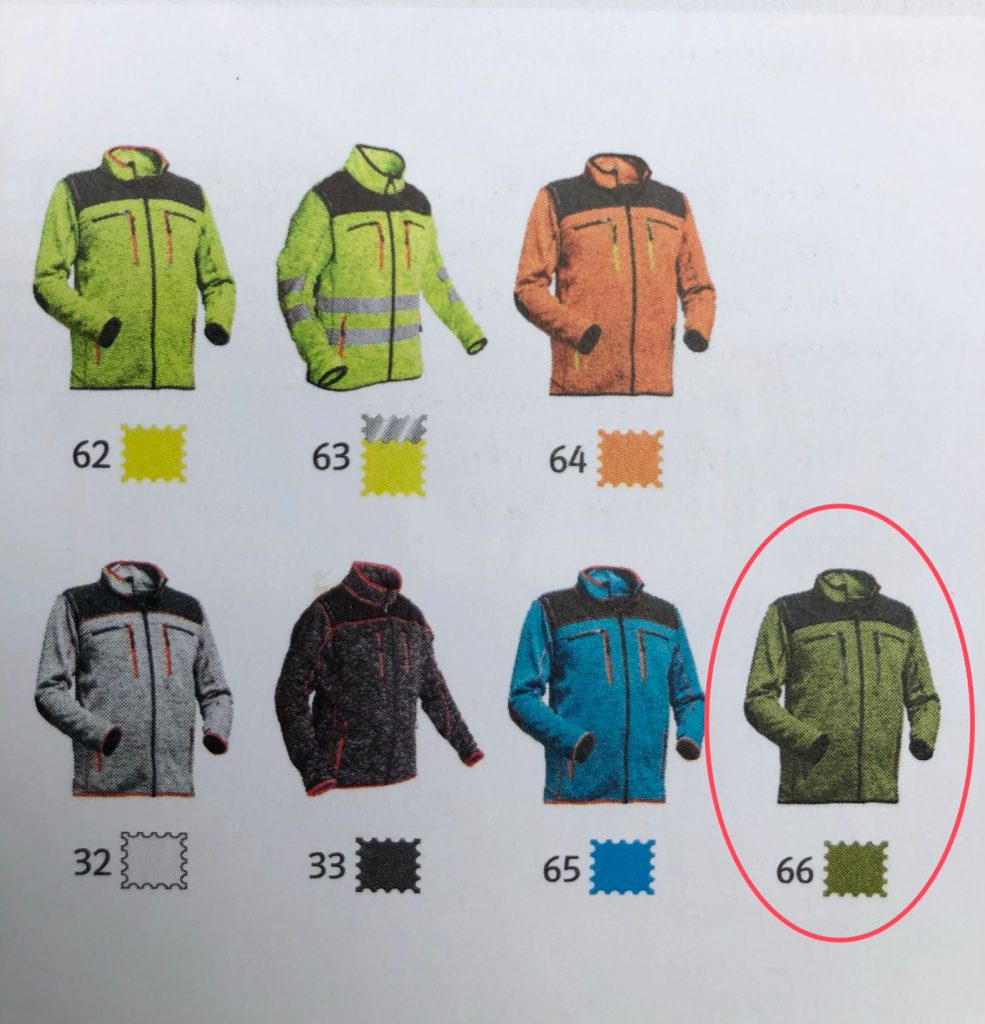 Difference in colour
This is the colour of the green in the Pfanner brochure. This is the colour I was expecting. It is clearly a better match to the trousers and shirt than the actual colour of the jacket.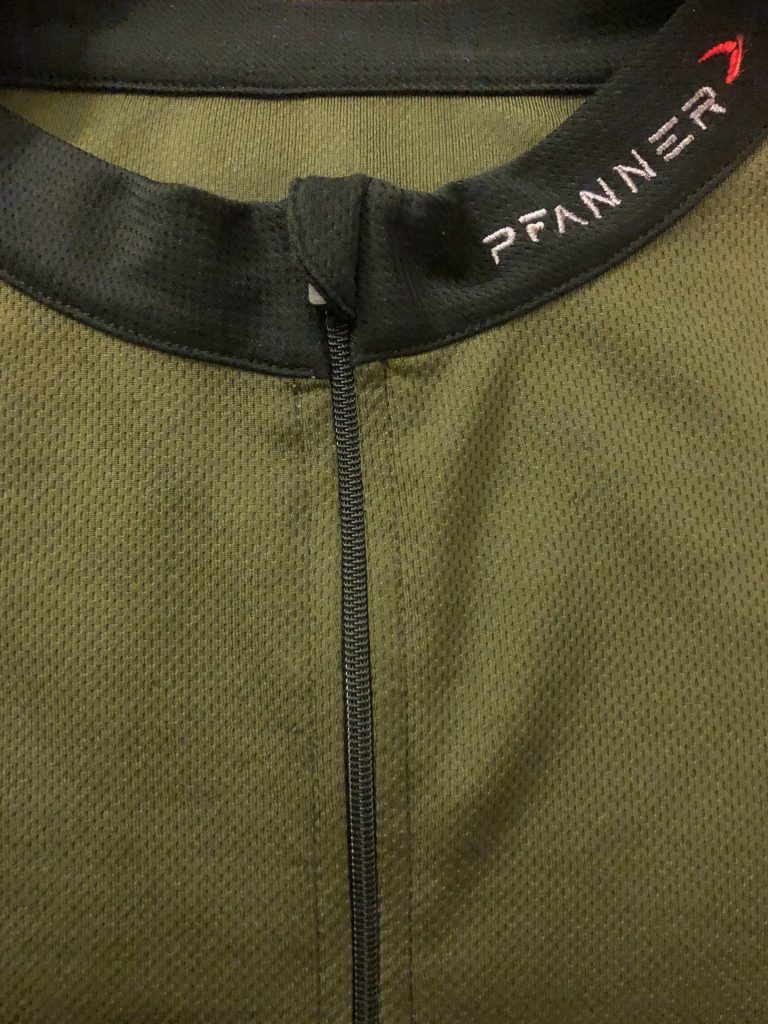 Pfanner Zip Neck Shirt (long sleeves)
Pfanner Zip Neck Shirt
I initially purchased 3 of these long sleeve shirts in size large. I checked the sizing chart in the brochure and my size fitted within the range for a size large. When I tried one on it was a bit neat fitting. I think these shirts are designed to be tight. I wore the size large for a week (washing it every day). This shirt dries very quickly, and does not shrink or stretch nor go out of shape. It's ideal for wearing when you get hot, as sweat is wicked away and the shirt dries on your back no problem. However, the large size still felt a bit tight for me. The zipped neck was tight, and although there is a great deal of stretch in the material for movement, I still felt it was like a spray on shirt. I took the 2 I had not opened back to my local dealer and exchanged them for an extra large size. This extra large size was much better for me. I am only 5ft 8 inches tall (172cm) and 12st 9lb in weight (80kg) so I am not an extra large guy. The longer sleeves on the extra large do come past my wrist a tiny bit, but I wear gloves mostly so this doesn't annoy me.
If you are anywhere near the top end of your size on the sizing chart, I would definitely opt for the larger size. Also, if you have big arms, or a wide neck, or perhaps like me you put on a bit of weight during the winter months, I'd also go for the next size up. But, if you are a slim Jim or Jane, and you like wearing tight fitting clothing, stick to your size on the sizing chart at first – definately try it on before you buy it.
These long sleeved tops are excellent for wearing while gardening, and are one of my favourite Pfanner clothing items.
Pfanner Gladiator Trousers
These trousers are fantastic. I have worn workwear trousers from other reputable clothing businesses, and worn walking and hiking trousers from leading clothing manufacturers, and worn military issue clothing, and nothing I have worn previously comes close to the comfort and performance of these trousers. Yes, they are much more expensive than anything I have purchased or worn before, but they do live up to that extra price point.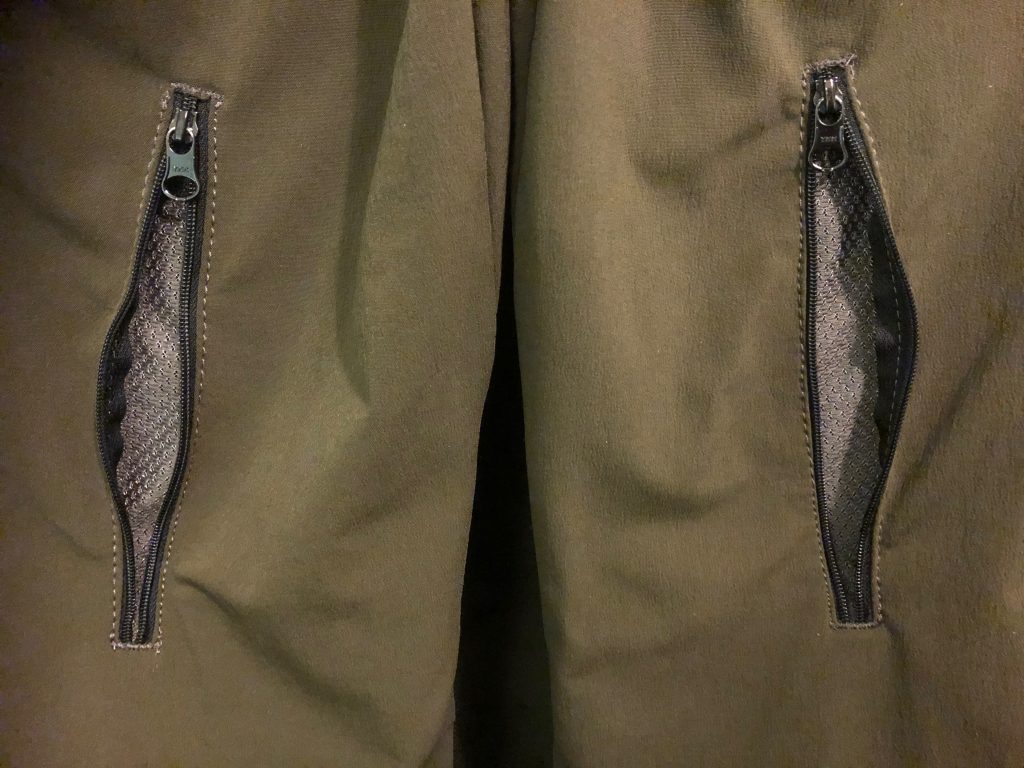 These Gladiator trousers come with zip off ankle gators with a hook to fit over boot laces. I removed these as for me they were not necessary, but other people may find them useful. The zip vents down the back of each leg and at the ankles are a great addition, and were really welcome in the warmer summer months. The left leg velcro pocket is a perfect size for a large phone, and the right leg pockets are great for quickly putting away secateurs when you need to free up a hand when pruning. The zipped hip pockets are perfect for those items you want to keep safe. There is also a zipped rear pocket. I don't often use this pocket but it may be handy to store a pass, ID card, or trade card. Personally I'm not keen on storing items in this backside pocket as it can be uncomfortable when driving.
The front of the trousers have a sort of ripstop fabric, a bit like a high end tent fabric, all the way down the front of each leg. This acts as a waterproof barrier, but also gives the front legs a bit of protection. There is also added protection at the knees and ankles with the addition of kevlar fabric. The ripstop fabric is great, but it's not invincible. I have a few nicks in mine where I brushed past some rose bushes, so it's still worth being careful. The rear of the trousers are made of a stretchy thinner fabric that's perfect for keeping you cool, wicking moisture away from the skin, and for unrestricted movement. I don't think this fabric would stand up to many attacks by thorn bushes though, so it's also worth being careful what you brush past while gardening.
The fit of these trousers is great. I had to go to a large size as I could barely get the medium size trousers in the sizing chart over my butt, and the medium legs gave me no room for movement. The large size was much better. The trousers also come in short, medium and long lengths, so it's no problem to find the right fit. I stuck with the large trousers with the short length. At 172cm tall and 80kg in weight, these are a great fit for me. I do need to wear a belt, but this doesn't bother me. The trousers stay on my waist and I don't need to keep pulling them up to my belly button to keep them up. Trousers that keep needing to be pulled up drive me crazy. These are perfect.
Just like the Zip Neck Shirt and Innuit Jacket, these Gladiator trousers wash really well and dry out very quickly. I have 2 pairs of these trousers and I wash a pair every day. They still look fairly new after 12 months of washing and wear.
Pfanner Clothing Review
The Postives & The Negatives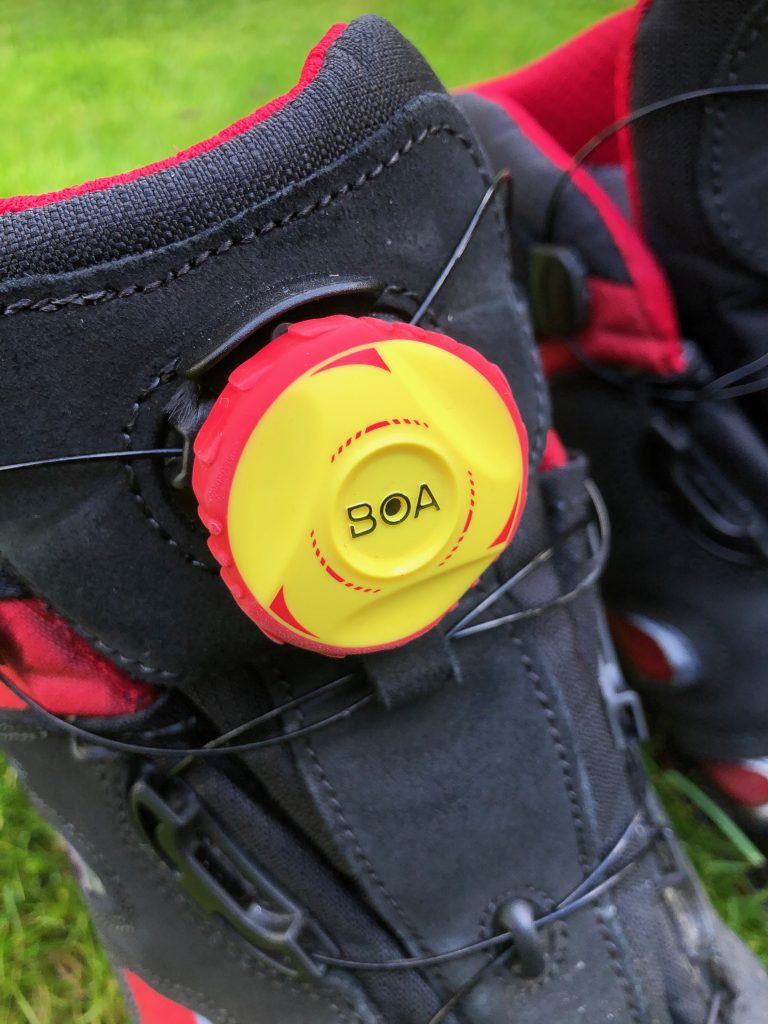 Pfanner Clothing - The Positives
Pfanner produce top quality clothing that is comfortable, fits well, is durable, and does exactly what you want them to do and more. To be able to wear this clothing all day in all weathers and still be comfortable is ideal. To be able to wash them daily and see no deterioration in colour, fit, usability and wear is excellent. I am very happy to sing the praises of this clothing range. Although there are some small personal and minor negative points, I am overall delighted with my Pfanner clothing purchases.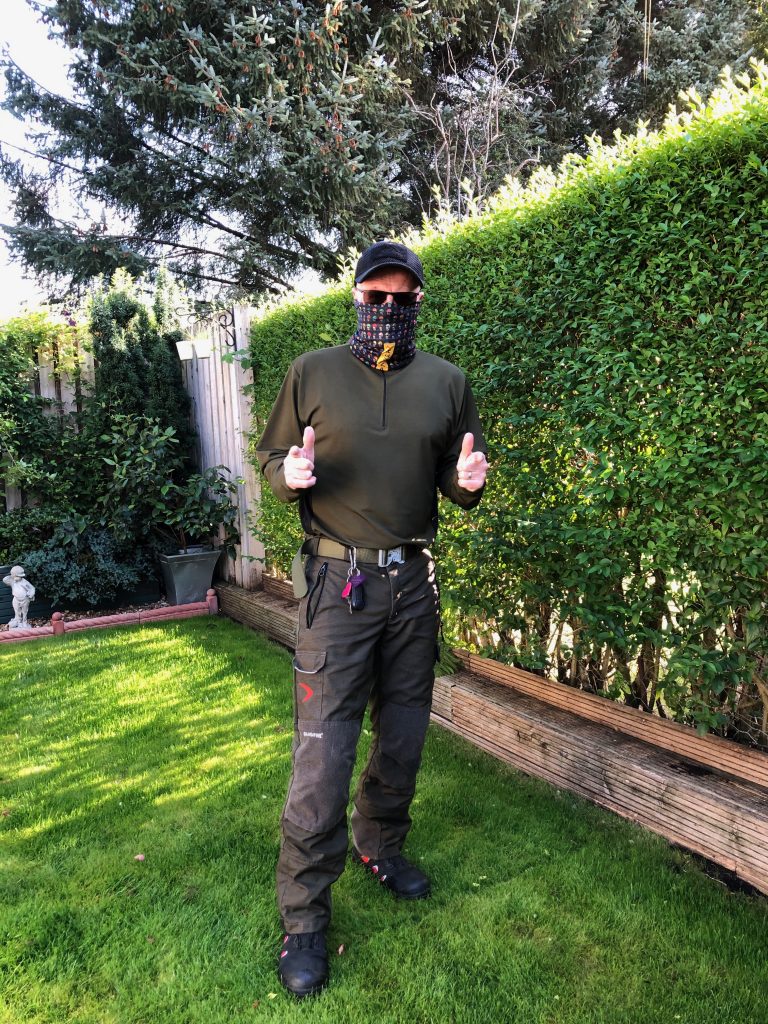 Pfanner Clothing Review - The Negatives
The biggest initial negative was the price point. This clothing isn't cheap, and you may need to have a good think before you buy. They are a considered purchase. Don't worry though, you'll probably have plenty of time to think, as the next negative is the lead times. This clothing isn't going to arrive in 2-3 days from the date of ordering. Even if you are lucky to have a dealer near you, as I have, if you need a size or colour that isn't in stock it can take 2-3 weeks to arrive from Austria. By the time your order arrives you may have changed your mind, or you might stick with a wrong decision because you just can't face waiting other 2-3 weeks for a different size or colour.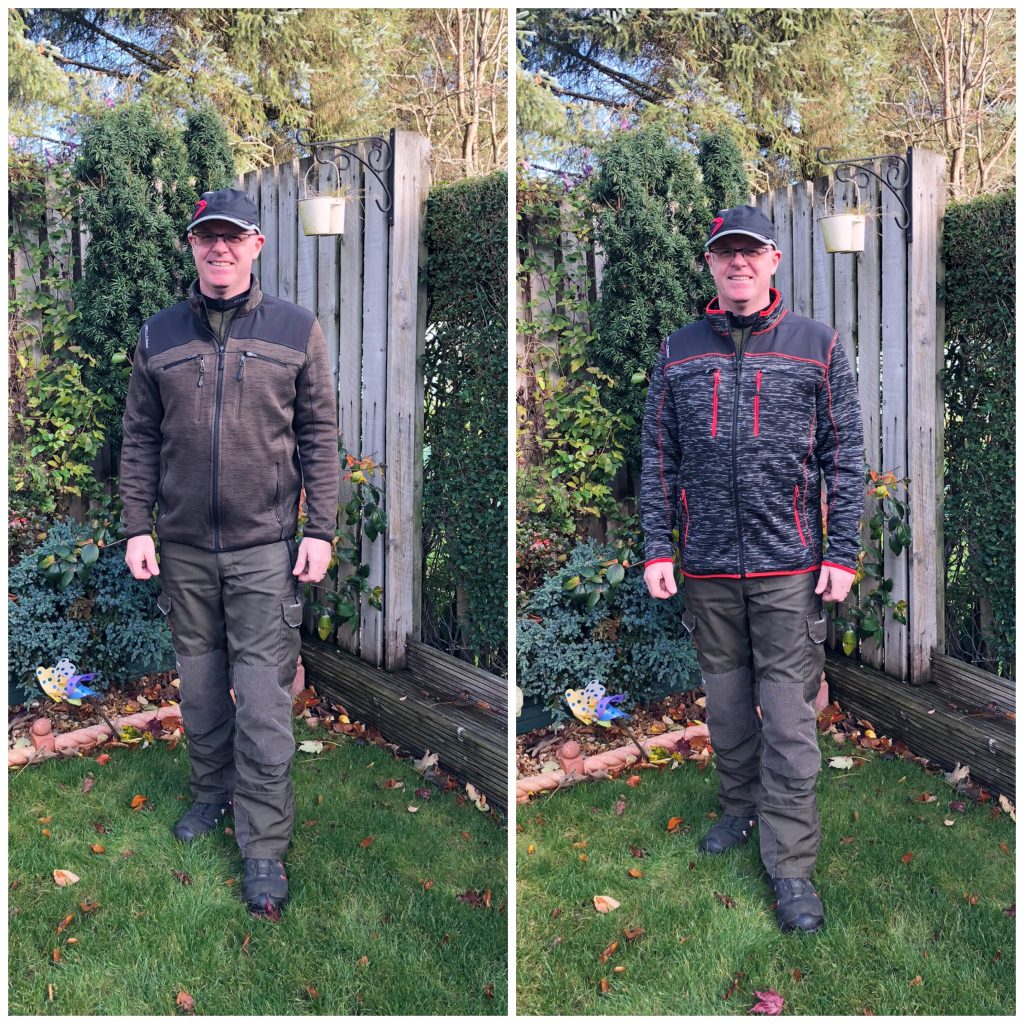 Pfanner Clothing Review - Summary
Pfanner Clothing Review – Summary
I would definitely recommend Pfanner clothing. I love it, and I'm very happy with my purchases. I got over the price point barrier as I was confident this clothing was top quality. My local dealer assured me Pfanner was a premium brand, and they were right. Yes, there are some negatives. The colour of my jacket wasn't right, you may need to go up a size, and so far I haven't found the Serguro High Shoes great for walking long distances in. BUT, these few negatives can be overcome, and the positives are so great that the negatives pale into less than significant.
I hope to add a video review of my Pfanner clothing purchases in the next few months. Please feel free to check back and watch the video.
Michael Thomson – Mr & Mrs Gardens Limited